Crispy Tilapia Tacos
WITH PINEAPPLE SALSA
If you're giving up meat for Lent this year, Morey's Seafood has your back with these fish tacos! Try these crispy tilapia tacos with this fresh pineapple salsa and a spicy/creamy charred jalapeño crema. A great dish for Lent but also for your future weekday meals!

This recipe was created in collaboration with @cookedbymike for the Morey's Friday Night Cooking Club.
Preparation Instructions
Pineapple Salsa: First, let's make our salsa by dicing a ripe pineapple into small bits and setting aside. Chop about 1/2 cup of larger chunks and place into a small pot with a splash of water and 1 Tbsp. of sugar. Cook on medium low heat for 10 minutes or until the pineapple is softened. Blend the softened pineapple and place into a large dish with your other ingredients and give it a toss. Add a pinch of salt and lime juice to liven things up. Store in your fridge for up to 5 days.
Charred Jalapeño Crema: Char 1 or 2 jalapeños (depending on spice tolerance) over an open fire. The skin will quickly blacken, so keep an eye on them. Take off heat and place into a bowl of cold water and remove the burnt skin. If your spice tolerance is low, remove the seeds. Process jalapeños in a blender with your Mexican crema, avocado, lime juice and zest, and a pinch of salt.
Fried Beer-Battered Fish: In a large pot, heat neutral oil to 350°F. Add ingredients for beer batter into a bowl and mix. It should be slightly runny but not watery. Using Morey's delicious Tilapia Seasoned Grill, dredge in a light coating of all-purpose flour. Remove from flour and shake off excess. Place into your beer batter mixture and coat evenly. Gently place your fish into the hot oil and cook for a total of 6 minutes or until you get a nice golden crust. Salt after removing from oil.
To Serve: To assemble, heat up  tortillas. Place a small bed of cabbage over top of tortilla, followed by crispy fish. Top with pineapple salsa and a good drizzle of the jalapeño crema and cilantro if desired.
Ingredients
4 tortillas

Beer Battered Fish: 
2 fillets of Morey's Tilapia Seasoned Grill, cut in half into 4 large pieces
1 can (12 oz) beer (or club soda)
1 cup all-purpose flour
2 tsp. salt
1 tsp. baking soda

Pineapple Salsa:
1/2 cup pineapple puree
3/4 cup diced pineapple
2 Tbsp. diced red pepper
2 Tbsp. minced shallot
2 Tbsp. minced jalapeño
2 Tbsp. chopped cilantro
Juice and zest of half a lime
Pinch of salt

Jalapeño Crema:
2 jalapenos
1/2 avocado
1/2-3/4 cup Mexican crema
Juice and zest of half a lime
Pinch of salt
Prep Time
10 min
Cook Time
35 min
Serving Size
2
Additional Product Options
You can also use:
Wild Cod Butter and Herb

Drink Pairings
Vinho Verde
Margarita
Lager
Summary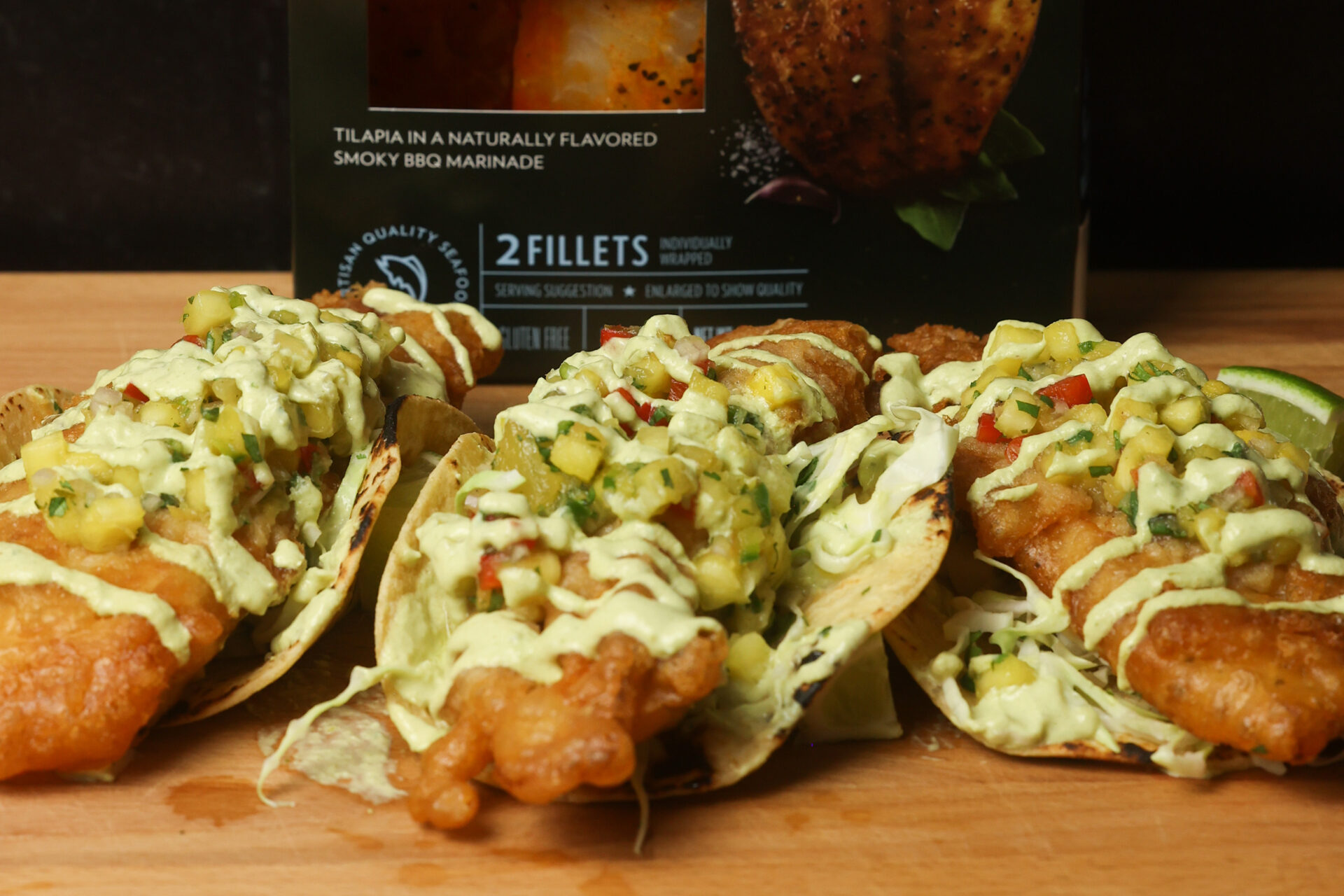 Recipe Name
Crispy Tilapia Tacos with Pineapple Salsa
Author Name
Morey's Fine Fish & Seafood
Published On
Preparation Time
Cook Time
Total Time