Curried Fish Pies with Chutney
WITH TILAPIA SEASONED GRILL
Our Curried Fish Hand Pies with Apple-Ginger Chutney are a delicious take on a savory meat pastry. Bright, crisp apples, golden raisins, and ginger add a touch of fruit to spicy, flaky hand pies.

These Curried Fish Hand Pies feature a sweet and savory apple chutney filling that can be made up to three days ahead of time before adding the fish. Don't let the long list of ingredients scare you: the hardest part of preparing this mouthwatering chutney is dicing the apples, and frozen pie dough gives you a nice head start on the pies while still producing impressive results. Morey's Tilapia Seasoned Grill fillets come in a smoky marinade that cuts this complex, bakery-quality recipe down to a manageable dish.

Serve these delicious Curried Fish Hand Pies as an appetizer, or let them shine as the main course alongside a spinach salad and buttery Chardonnay or fresh mimosa for a memorable brunch or dinner party.
Preparation Instructions
MAKE THE CHUTNEY: In a medium saucepan over medium-low heat, heat the oil. Add the ginger and garlic and sauté 30 seconds, until fragrant. Reduce the heat to low and add the apples. Sauté for 2 minutes.

Stir in the vinegar and brown sugar and sauté for 1 more minute. Stir in the curry powder, paprika, and coriander. Cook, stirring for 2 minutes. Stir in ¾ cup water. Cover and cook, stirring occasionally, 5 minutes.
Uncover and stir in the raisins and lemon juice. Remove from the heat and cool.
NOTE: Chutney can be made up to three days before and kept refrigerated in an airtight container.
MAKE THE FILLING: While chutney is cooling, make the curried fish filling. Cook Morey's Tilapia Seasoned Grill according to the package directions for baking. Remove from oven and flake into large pieces. Set aside.

While fish is baking, start the rest of the filling. In a large skillet over medium-high heat, heat 2 tablespoons of the oil. Add the onion, garlic, and chilies and cook 3 minutes until the onion begins to soften. Stir in the curry powder and cook 30 seconds until fragrant. Add the tomatoes and simmer 5 minutes until thickened.

Gently fold in the cilantro and fish. Season with salt and pepper.
MAKE THE HAND PIES: Preheat the oven to 400°F.

Using a 4 1/2- to 5-inch bowl turned upside-down, cut the pie dough into 24 circles, re-rolling the dough as needed.

Spoon about 2 tablespoons of filling into the center of each circle. Moisten the edges of the circles with a little water and fold the dough into half-moons, pressing the edges to seal. Use a fork to crimp the edges, and place the pies onto 2 rimmed baking sheets lined with parchment paper.

Whisk together the egg yolk and 2 teaspoons water. Brush the egg wash onto the tops of the pies. Bake for 15 to 20 minutes or until browned and cooked through.
TO SERVE: Serve the hand pies with the chutney and garnish with cilantro leaves before serving.
Ingredients
For the Apple-Ginger Chutney:
2 Tbsp. vegetable oil
1 Tbsp. grated fresh ginger
3 cloves garlic, minced
3 apples, peeled, cored, and diced
2 Tbsp. apple cider vinegar
1 Tbsp. brown sugar
1/2 tsp. curry powder
1/2 tsp. paprika
1/2 tsp. ground coriander
1/2 cup golden raisins
2 Tbsp. fresh lemon juice

For the Curried Fish Hand Pies:
6 Morey's Tilapia Seasoned Grill fillets
1 Tbsp. vegetable oil
1/2 cup chopped onion
2 cloves garlic, minced
1 Tbsp. minced red chilies
1 Tbsp. curry powder
1 (14.5-ounce) can diced tomatoes
1/4 cup chopped fresh cilantro
2 (14.1-ounce) packages refrigerated pie dough
1 large egg yolk
Prep Time
50 minutes
Serving Size
6-8
Additional Product Options
You can also use:
Wild Cod Butter & Herb
Drink Pairings
Jurançon
Mimosa
White Stout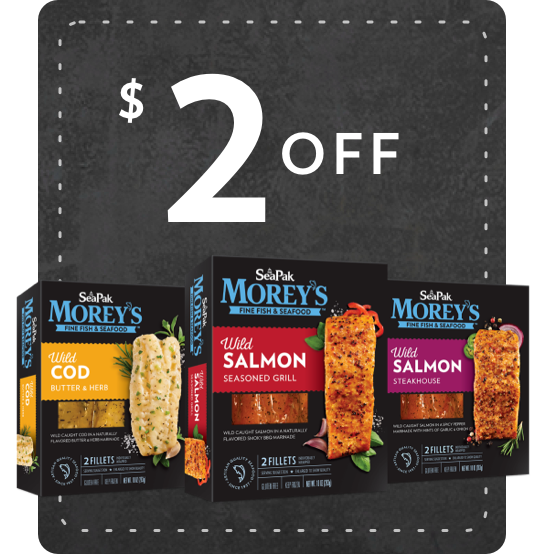 Sign Up and Save.
From delicious recipes to cooking tips to special offers, we've selected the best catches for your inbox. We'll send a coupon directly to your inbox when you sign up!