Preparation Instructions
COOK FISH: Cook Morey's Tilapia Seasoned Grill according to package directions of your choice (we used the baking method). Remove from oven and flake into large pieces.
MAKE SAUCE: While fish is cooking, make the sauce. In a small bowl, stir together the mayonnaise and BBQ sauce. Set aside.
TOAST BREAD: Set oven to broil. On a small baking sheet covered with foil, place the two pieces of bread and brush with olive oil. Sprinkle lightly with pepper. Broil until beginning to char around the edges.
FINISH SANDWICH: Spread sauce generously over the pieces of toast. Top each with fish and cheese. Return to broil until cheese is melted and bubbly.
TO SERVE: Top each sandwich with arugula. Drizzle each with olive oil and lemon juice. Sprinkle with a pinch of salt and pepper. Serve open faced.
PRO TIP: A layer of caramelized onions adds a nice savory sweetness to this sandwich.
Ingredients
2 Morey's Tilapia Seasoned Grill fillets
2 Tbsp. mayonnaise
2 tsp. BBQ Sauce (use your favorite)
2 extra thick slices of rustic sourdough bread
Olive oil
1/2 cup shredded cheddar cheese
1 cup arugula
Juice of 1/2 lemon
Kosher salt
Coarsely ground black pepper
Prep Time
15 minutes
Serving Size
2
Additional Product Options
You can also use:
Wild Cod Butter & Herb
Drink Pairings
Shiraz
Sea Breeze
Ale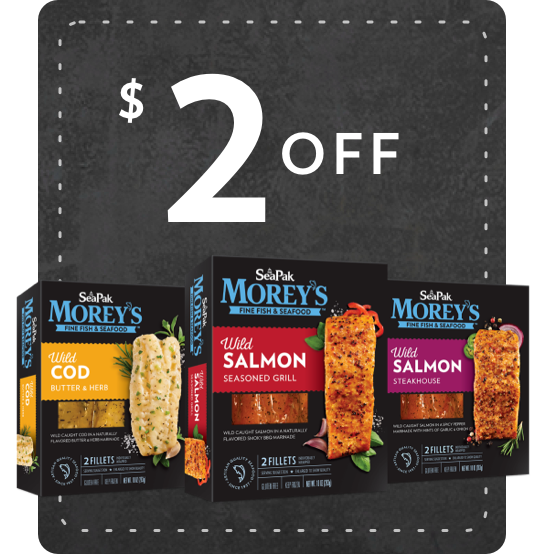 Sign Up and Save.
From delicious recipes to cooking tips to special offers, we've selected the best catches for your inbox. We'll send a coupon directly to your inbox when you sign up!