Tilapia Breakfast Burrito
WITH TILAPIA SEASONED GRILL
For the perfect Sunday Fun-day, try this delicious seafood burrito recipe. We've wrapped spiced tilapia, fried potatoes, farm fresh eggs, and melty cheddar cheese in a charred tortilla for the perfect accompaniment to Bloody Marys.

But Sunday brunch is certainly not the only time you can serve this delicious seafood burrito. It also checks all of the boxes for a light, satisfying, weeknight dinner for two to four people: nutritious, filling, flavorful, and fast. Serve it with a fresh green or fruit salad and a glass of lager for a meal that's simple to prepare and has a complex flavor profile. Poblano peppers are mild, but they add a fresh bite. Go forth and spice up your noshing!
Preparation Instructions
COOK FISH: Cook Morey's Tilapia Seasoned Grill according to package directions of your choice (we used the baking method). Cut each fillet into two long pieces.
COOK POTATOES: While the fish is baking, start the potatoes. In a large sauté pan or skillet over medium heat, add the oil. When the oil begins to shimmer, add the potatoes, onions, and poblano pepper. Salt and pepper. Cook, stirring occasionally, until beginning to brown. Stir in garlic. Lower heat to medium low and continue cooking until potatoes are just tender (but still have a little bite) and golden. Remove potatoes to a bowl and set aside. Wipe out your pan with a paper towel and return to stovetop.
LIGHTLY CHAR TORTILLAS: Place a tortilla over a gas flame. Use a pair of tongs to move the tortilla around the flame to brown in a few spots and warm the tortilla (you don't want to crisp the tortilla…just warm it and add a bit of color). Repeat with all 4 tortillas.
COOK EGGS: Add eggs to a medium mixing bowl and whisk together with salt and pepper. Add 1 tablespoon of oil to the pan over medium-low heat. Pour eggs into the pan and cook by using a silicone spatula to push the cooked outer edges of eggs in toward the center of the pan until all are softly scrambled. Remove from heat.
ASSEMBLE BURRITOS: Lay the four flour tortillas out on a flat surface. Divide the potatoes between them, spooning them down the center of the tortillas. Top each with eggs, cheese, avocado slices, and fish. Fold the bottom of the tortilla up, the top down, and the sides in to the middle and roll together to form a tight burrito.
TO SERVE: Serve warm with salsa or hot sauce.
PRO TIP: Parboil your potatoes and cool them first (up to two days before) for a quicker fry up!
Ingredients
1/4 cup canola oil
1 large Yukon gold potato, diced (about 2 cups)
1/4 cup diced onion
1/4 cup diced poblano pepper
2 garlic cloves, finely chopped
6 eggs
1/2 cup shredded cheddar cheese
1 avocado, peeled, pitted, and sliced
2-4 extra-large flour tortillas (use 2 or 4 depending on how you like them stuffed)
Kosher salt
Coarsely ground black pepper
Salsa for serving
Hot sauce for serving
Prep Time
40 minutes
Serving Size
2-4
Additional Product Options
You can also use:
Wild Cod Butter & Herb

Drink Pairings
Champagne
Bloody Mary
Lager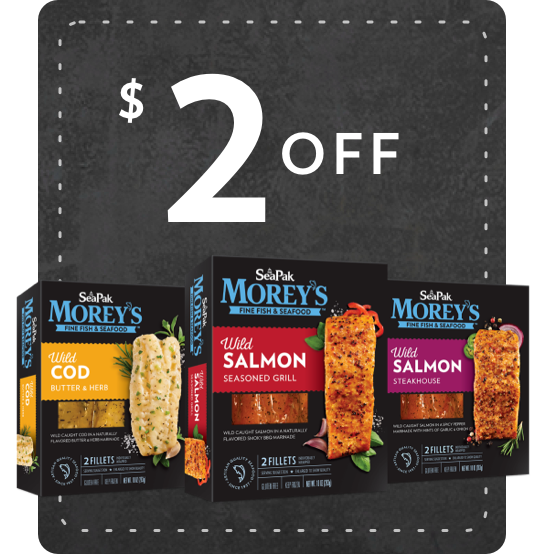 Sign Up and Save.
From delicious recipes to cooking tips to special offers, we've selected the best catches for your inbox. We'll send a coupon directly to your inbox when you sign up!