Tilapia and Brussels Sprouts Salad
WITH TILAPIA SEASONED GRILL
This Spiced Tilapia and Roasted Brussels Sprouts Salad is hearty enough to serve as an entrée and simple enough to be the star of a potluck. Plus, it's the perfect dish for chilly fall evenings when you want something warm, but not too heavy. Bake the tilapia fillets or grill them, and roasting the brussel sprouts is an easy way to produce rich, flavorful results. It's also a flexible dish, as you can swap out tilapia with cod or salmon if you prefer.

If you decide to try this dish during autumn, try it with a spiked cider or old fashioned. Summertime? Sip on a red sangria or light pilsner. No matter the time of year, our Tilapia and Brussels Sprouts Salad is always in season.
Preparation Instructions
ROAST BRUSSELS SPROUTS: Preheat oven to 375ºF. Line a baking sheet with foil. Directly on the prepared baking sheet, toss together the brussels sprouts, grapes, garlic, shallots, 2 tablespoons olive oil, 1 teaspoon salt, and 1/2 teaspoon pepper. Spread out evenly and roast until sprouts are tender and golden brown with a little charred edge (about 20 minutes).
COOK FISH: 5 minutes into the cooking of the brussels sprouts, begin cooking the Morey's Seasoned Grill Tilapia according to package directions of your choice (we used the baking method).
FINISH BRUSSELS SPROUTS SALAD: Remove brussels sprouts from oven and stir in parsley and walnuts. Salt and pepper to taste.
TO SERVE: Divide brussels sprouts between two bowls and top with tilapia. Drizzle with olive oil and garnish with parsley.
WINE PAIRING: A Sangiovese is a bit of a chameleon and a reason why we like it for this dish. It works with the sprouts and the sweetness of the grapes.
Ingredients
3 cups brussels sprouts, trimmed and quartered
1 cup red seedless grapes
1 Tbsp. diced shallot
2 garlic cloves, sliced
Olive oil
1 bunch chopped parsley, plus more for garnish
1/4 cup walnuts, broken into large pieces
Kosher salt
Coarsely ground black pepper
Sangiovese
Gimlet
Dry cider
Summary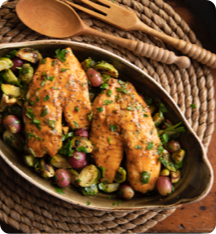 Recipe Name
Tilapia and Brussels Sprouts Salad
Author Name
Published On
Preparation Time
Cook Time
Total Time