Tilapia with Puttanesca Sauce
WITH TILAPIA SEASONED GRILL
Pasta Puttanesca is a traditional Italian dish that features a rich, slightly spicy tomato sauce with garlic, capers, olives, hot pepper, and sometimes anchovies. Our Tilapia with Puttanesca Sauce is a simple, no-frills, classic favorite that you can easily make at home.

Puttanesca sauce is a little bit different from classic marinara. It is made with crushed plum tomatoes, garlic, red pepper, black olives, and capers. The sauce is cooked quickly for a bright, more acidic flavor than a classic, slow-cooked Italian gravy.

With so many aromatic notes, the pairing possibilities are endless. To enhance the flavor of our Tilapia with Puttanesca Sauce, try adding an arugula salad on the side. Wash it down with an Italian red wine or inexpensive zinfandel. All the flavors of Naples without those pesky passports!
Preparation Instructions
COOK FISH: Cook Morey's Tilapia Seasoned Grill according to package directions of your choice (we used the baking method).
COOK PASTA: While the fish is cooking, start the pasta and sauce. In a large pot of boiling salted water, add the pasta and cook until al dente. Drain and return to pot to keep warm.
MAKE SAUCE: In a large skillet over medium-low heat, add 2 tablespoons olive oil, garlic, and red pepper flakes. Cook, stirring occasionally, until garlic is just lightly golden. Drain the tomatoes and crush with your hands into the skillet. Season with a heavy pinch of salt and pepper. Raise heat to medium-high and cook, stirring occasionally, until the mixture starts to become a sauce (about 10 minutes). Stir in olives and capers.
FINISH DISH: Add pasta to the sauce along with the remaining olive oil and a handful of fresh herbs. Toss to coat.
TO SERVE: Divide pasta between bowls and top with tilapia. Garnish with more herbs if desired or a healthy grate of Parmesan cheese.
PRO TIP: Traditional Puttanesca sauce is made with anchovies in the sauce. By topping the finished dish with tilapia, we are also getting a smooth fish flavor in every bite.
Ingredients
2 Morey's Tilapia Seasoned Grill fillets
8 ounces linguini pasta
3 Tbsp. olive oil, divided
3 garlic cloves, peeled and smashed
1 tsp. crushed red pepper flakes
1 (28-ounce) can whole plum tomatoes
1/2 cup black olives, pitted and sliced
2 Tbsp. capers
Chopped fresh herbs (basil, oregano, parsley)
Parmesan cheese (optional)
Kosher salt
Coarsely ground black pepper
Prep Time
30 minutes
Serving Size
2-4
Additional Product Options
You can also use:
Wild Cod Butter & Herb
Drink Pairings
Nero d'avola
Sgroppino
Italian pilsner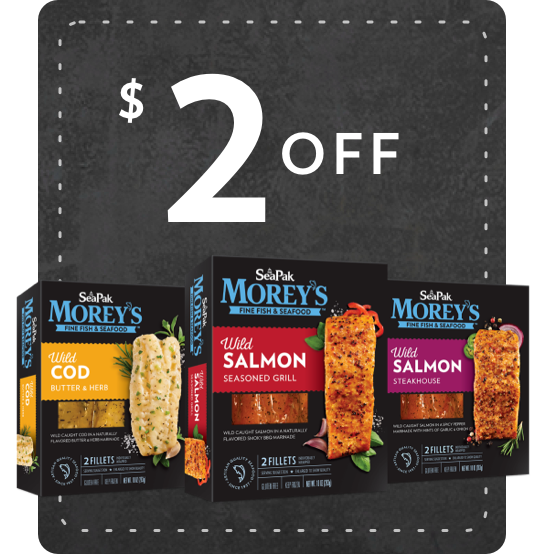 Sign Up and Save.
From delicious recipes to cooking tips to special offers, we've selected the best catches for your inbox. We'll send a coupon directly to your inbox when you sign up!