Preparation Instructions
COOK HASH: In large skillet set over medium-high heat, add bacon and cook, stirring occasionally, for 3 to 5 minutes or until fat is starting to render. Using slotted spoon, transfer to cutting board, chop, and transfer to small bowl; set aside. Add onion and garlic to the skillet. Cook, stirring occasionally, for 3 to 5 minutes or until translucent and fragrant. Add potatoes, paprika, salt, chili powder, and pepper. Cook, stirring occasionally, for 15 to 20 minutes or until potatoes are starting to soften. Stir in reserved bacon.
COOK FISH: While hash is cooking, cook Morey's Wild Salmon Seasoned Grill Fillets according to package directions using the baking method. Flake into pieces; set aside.
MAKE HOLLANDAISE: Prepare hollandaise sauce mix according to package directions. Keep warm; set aside.
POACH EGGS: In a large saucepan over high heat, bring 2-3 inches of water almost to a simmer. Add vinegar. Stir water to create gentle whirlpool. In batches to avoid crowding, crack eggs and gently drop into whirlpool. Cook eggs for 3 to 5 minutes or until desired doneness is reached. Using slotted spoon or fine-mesh strainer, carefully transfer eggs to a paper towel–lined plate. Pat dry to remove excess moisture.
TO SERVE: On each serving plate, arrange potato hash topped with flaked salmon. Top each with 2 poached eggs, hollandaise sauce, and chives.
PRO TIP: Substitute sweet potato for Yukon gold potatoes in the hash or substitute bacon with turkey bacon, if desired.
Ingredients
2 Morey's Wild Salmon Seasoned Grill Fillets
4 slices bacon, chopped
1 large onion, diced
4 cloves garlic, minced
2 large Yukon gold potatoes, diced
1 tsp. smoked paprika
1 tsp. salt
1/2 tsp. chili powder
1/2 tsp. black pepper
1 pkg (56 g) hollandaise sauce mix
3 Tbsp. white vinegar
8 eggs
1 Tbsp. chopped chives
Brut Rose
Spiked Coffee
Allagash White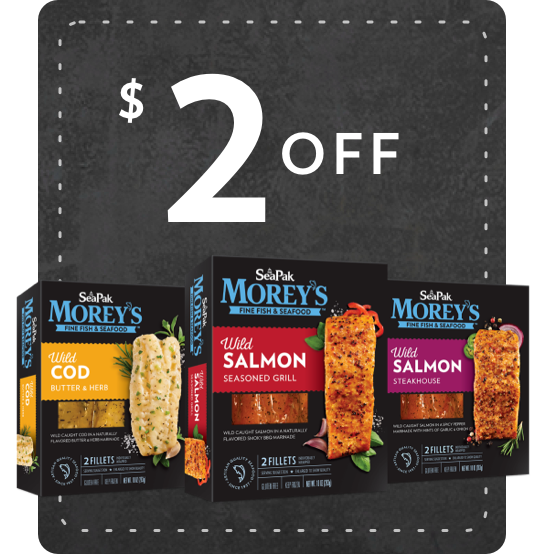 Sign Up and Save.
From delicious recipes to cooking tips to special offers, we've selected the best catches for your inbox. We'll send a coupon directly to your inbox when you sign up!
Summary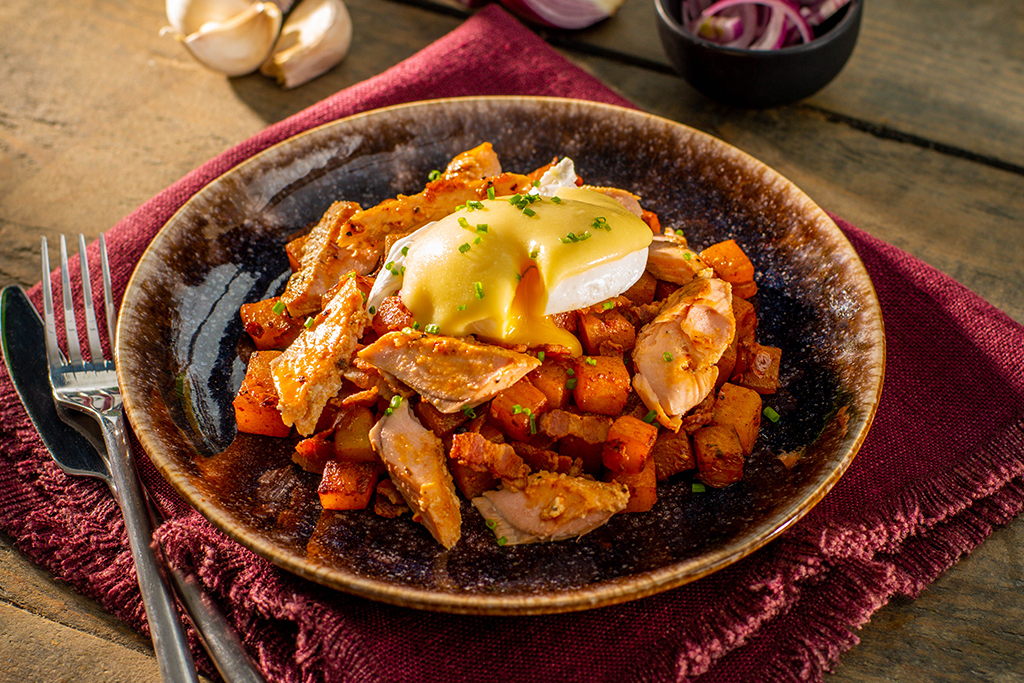 Recipe Name
Salmon Hash with Poached Eggs
Author Name
Morey's Fine Fish & Seafood
Published On
Preparation Time
Cook Time
Total Time