Preparation Instructions
COOK PASTA: Cook fettuccine in salted boiling water according to package directions. Reserve 1/4 cup cooking liquid and drain pasta.
COOK FISH: Cook Morey's Wild Salmon Seasoned Grill Fillets according to package directions using the baking method.
COOK SAUCE: In large skillet set over medium heat, melt butter. Add shallots and garlic. Cook, stirring occasionally, for 3 to 5 minutes or until shallots are softened and mixture is fragrant. Add sun-dried tomatoes and cook, stirring occasionally, for 2 to 3 minutes or until tomatoes have softened slightly. Pour in cream, bring to a simmer, and cook, stirring occasionally, for 8 to 10 minutes or until starting to thicken. Stir in spinach, 1/2 cup cheese, and lemon juice. Season with salt and pepper.
Toss in cooked pasta and reserved cooking liquid. Cook for 2 to 3 minutes or until liquid has thickened and pasta is well coated.
TO SERVE: Divide fettuccine alfredo evenly among 4 serving plates. Top with salmon fillet. Sprinkle with remaining cheese, parsley and lemon slice.
PRO TIP: If desired, add a splash of dry white wine to the sauce! Pour in wine after sautéeing shallots and garlic and cook, stirring, until reduced. Proceed with the recipe.
Ingredients
4 Morey's Wild Salmon Seasoned Grill Fillets
12 oz dried fettuccine pasta
2 Tbsp. butter
2 shallots, minced
4 cloves garlic, minced
1/4 cup chopped drained oil-packed sun-dried tomatoes
1 cup heavy cream
4 cups packed trimmed spinach
3/4 cup grated Parmesan cheese, divided
2 Tbsp. freshly squeezed lemon juice
1/2 tsp. salt
1/2 tsp. pepper
2 Tbsp. finely chopped fresh parsley
4 lemon wheels
Chablis
Fizzy Gin and Tonic
IPA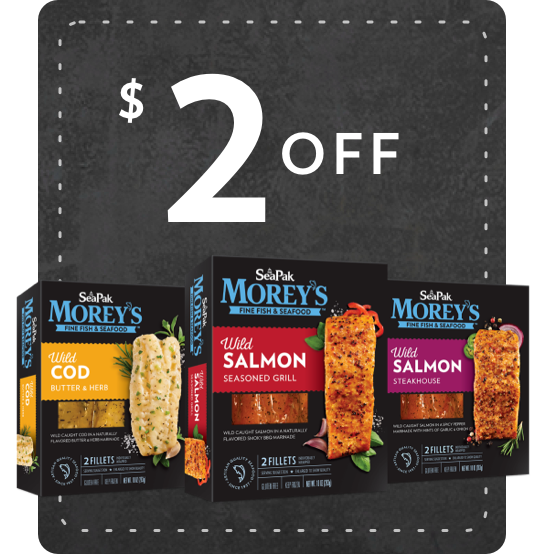 Sign Up and Save.
From delicious recipes to cooking tips to special offers, we've selected the best catches for your inbox. We'll send a coupon directly to your inbox when you sign up!
Summary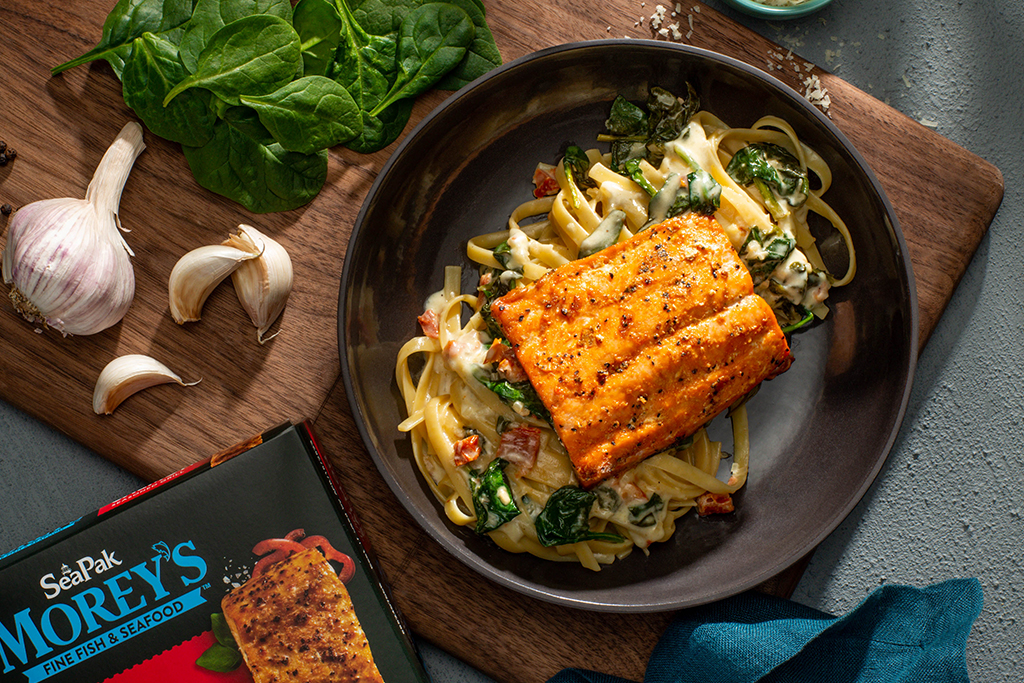 Recipe Name
Tuscan Salmon Fettuccine Alfredo
Author Name
Morey's Fine Fish & Seafood
Published On
Preparation Time
Cook Time
Total Time