Preparation Instructions
STEP 1: Prepare pasta according to package instructions.
STEP 2: Heat oil and butter in a skillet over medium-low heat. Add onions, garlic, mushrooms, and sun-dried tomatoes and sauté for 7 minutes, or until the onions are translucent, stirring often.
STEP 3: Add cream and Cajun seasoning to skillet. Stir until the sauce is smooth and creamy (1-2 minutes).
STEP 4: Add Morey's Wild Salmon Steakhouse to pan, break up with a fork, and simmer 2-3 more minutes on medium-low heat, cooking through.
STEP 5: Toss the pasta with the salmon and sauce. Salt and pepper to taste.
STEP 6: Top with fresh basil and Parmesan, toss and serve.
Ingredients
4 Morey's Wild Salmon Steakhouse fillets
8 ounces fettuccine pasta
1 Tbsp. olive oil
2 Tbsp. unsalted butter
1/2 cup yellow onion, diced
1/2 cup portabella mushrooms, sliced
4 Tbsp. sun-dried tomatoes
4 cloves minced garlic
1 cup heavy cream
1 Tbsp. Cajun seasoning
Black olives (optional)
1/4 cup fresh basil, torn
Grated Parmesan to taste
Salt and freshly ground black pepper
Merlot
Sidecar
Scottish Ale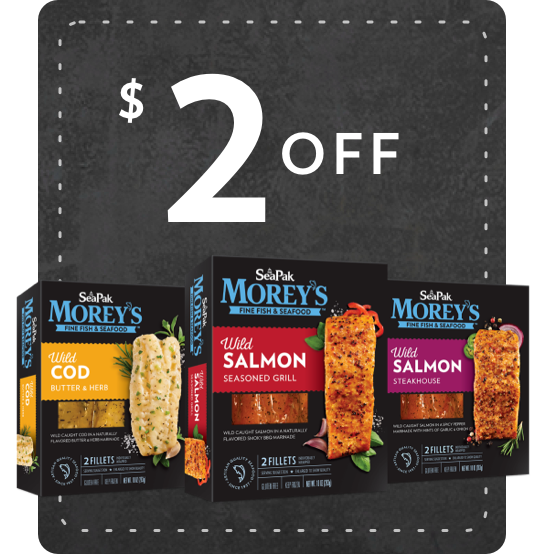 Sign Up and Save.
From delicious recipes to cooking tips to special offers, we've selected the best catches for your inbox. We'll send a coupon directly to your inbox when you sign up!