Preparation Instructions
COOK FISH: Cook Morey's Wild Salmon Seasoned Grill according to package directions of your choice (we used the baking method).
After cooking, remove skin and flake fish into large pieces.
MAKE LEMON GOAT CHEESE SPREAD: In a small mixing bowl, stir together goat cheese, yogurt, zest and juice of 1/2 lemon (cut the other half into quarters for serving), and dill. Season to taste with salt and pepper.
TO SERVE: Spread the lemon goat cheese spread onto one side of each piece of the rye bread (sandwiches are served open-faced).

Top each with 7 slices of cucumber in a fan pattern. Sprinkle cucumber lightly with salt and pepper.

Top cucumber with flaked salmon pieces. Squeeze lemon juice over and garnish with fresh dill sprigs.
PRO TIP: A sweet tangy pumpernickel makes a great substitution for rye bread.
Ingredients
2 Morey's Wild Salmon Seasoned Grill fillets
4 ounces goat cheese, room temperature
2 Tbsp. plain Greek yogurt
1 lemon, divided
2 tsp. chopped fresh dill, plus more for garnish
1/2 cucumber, thinly sliced
2-4 slices rye bread
Kosher salt
Coarsely ground black pepper
Provençal rosé
Daiquiri
Light Lager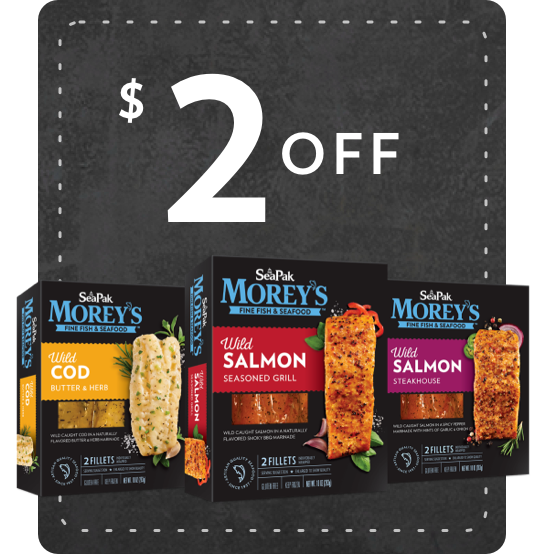 Sign Up and Save.
From delicious recipes to cooking tips to special offers, we've selected the best catches for your inbox. We'll send a coupon directly to your inbox when you sign up!