Preparation Instructions
COOK BACON: In large saucepan set over medium-high heat, add bacon and cook, stirring occasionally, for 5 to 8 minutes or until bacon is crispy and fat has rendered. Transfer bacon to a paper towel–lined plate. Drain all but 1 Tbsp. bacon fat from saucepan.
COOK RICE: In the same saucepan (including reserved bacon fat) set over medium heat, add arborio rice and cook, stirring, for 1 to 2 minutes or until well coated and lightly toasted. Add garlic and cook for 1 to 2 minutes or until fragrant.
Add white wine and stir to combine. Cook, stirring frequently, for 3 to 5 minutes or until rice has absorbed wine. Add heated broth in 1/2-cup increments and cook, stirring frequently between batches until liquid has mostly evaporated, for 15 to 18 minutes or until rice is tender and creamy.
Stir in peas and cook for 2 to 3 minutes or until heated through. Add 1/2 cup cheese, tarragon, butter, salt, pepper, and reserved bacon; stir to combine.
COOK FISH: Meanwhile, cook Morey's Wild Salmon Steakhouse Fillets according to package directions using the baking method.
TO SERVE: Divide risotto evenly among 4 serving bowls. Top each with cooked salmon fillet. Top with lemon juice, pea shoots, and remaining Parmesan cheese.
PRO TIP: For a lighter option, omit bacon and substitute bacon fat with olive oil or butter, if desired.
Ingredients
4 Morey's Wild Salmon Steakhouse Fillets
6 slices bacon, chopped
1 1/2 cups arborio rice
6 cloves garlic, minced
2/3 cup white wine
6 cups vegetable broth, warmed
1 cup frozen peas, thawed
1 1/2 cups grated Parmesan cheese, divided
3 Tbsp. finely chopped fresh tarragon
2 Tbsp. butter
1 tsp. salt
1/2 tsp. freshly ground black pepper
2 Tbsp. freshly squeezed lemon juice
1 cup pea shoots
Sauvignon Blanc
Gimlet
Belgian-style Saison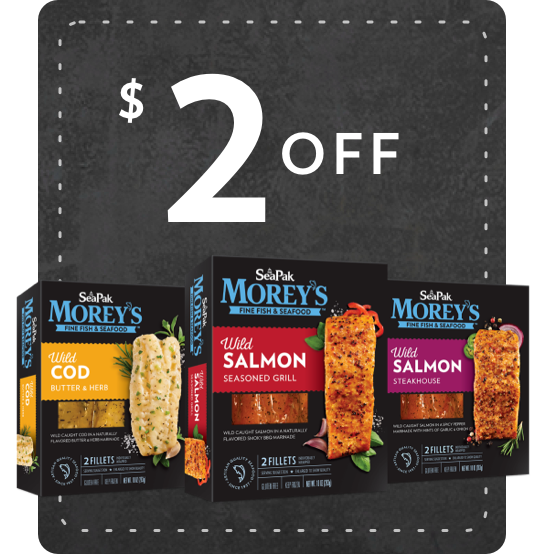 Sign Up and Save.
From delicious recipes to cooking tips to special offers, we've selected the best catches for your inbox. We'll send a coupon directly to your inbox when you sign up!
Summary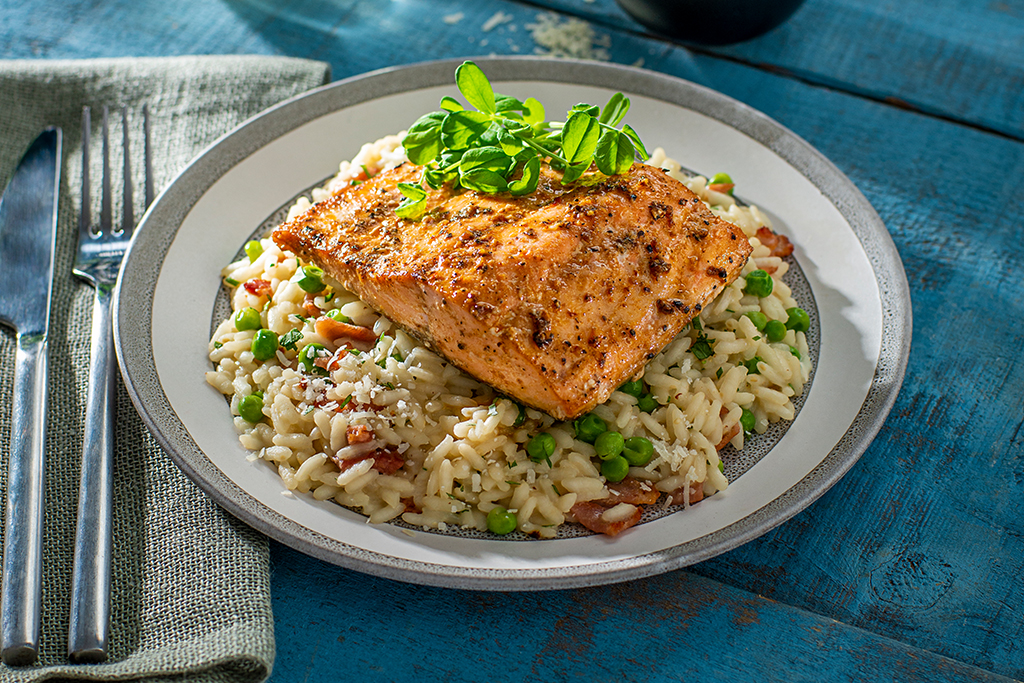 Recipe Name
Salmon, Bacon and Pea Risotto
Author Name
Morey's Fine Fish & Seafood
Published On
Preparation Time
Cook Time
Total Time