Preparation Instructions
BEGIN THE RICE: Place a large skillet with a tight-fitting lid over medium-high heat. Add the olive oil, onions, and ½ teaspoon each salt and pepper. Cook, stirring, 2 minutes. Stir in the curry powder and rice. Cook, stirring, for 1 minute. Add in the stock and stir. Squeeze lemon juice over. Reduce heat to medium-low, cover, and cook for 15 minutes or until liquid is absorbed.
COOK FISH: While rice is cooking, cook Morey's Wild Cod Butter & Herb according to directions for baking. Flake into large pieces.
BOIL EGGS: While the rice and cod are cooking, bring water in a saucepan to a boil. Add the eggs and cook for 8 minutes. Drain them under cold running water and when cool enough to handle, peel them and set aside.
FINISH RICE: Reduce heat to low. Add the cream and peas to the rice mixture and gently stir. Tuck the flaked fish into the rice mixture. Cover and allow to cook for 2 minutes. Cut the eggs into quarters.
TO SERVE: Serve right from the skillet! Top Kedgeree with the quartered eggs and sprinkle with parsley to garnish.
PRO TIP: Kedgeree can be kept warm by dotting the top with a few pieces of butter, covering, and placing in a warm oven for up to 15 minutes.
Ingredients
2 Morey's Wild Cod Butter & Herb fillets
1 Tbsp. olive oil
1/2 yellow onion, chopped
1 Tbsp. curry powder
1 1/2 cups basmati rice
3 cups chicken or vegetable stock
Juice of 1 lemon
4 eggs
3 Tbsp. heavy cream
1/2 cup frozen peas
3 Tbsp. flat leaf parsley, chopped
Kosher salt
Coarsely ground black pepper
Prep Time
50 minutes
Serving Size
4
Additional Product Options
You can also use:
Tilapia Seasoned Grill
Drink Pairings
Champagne
Whiskey
Coffee Porter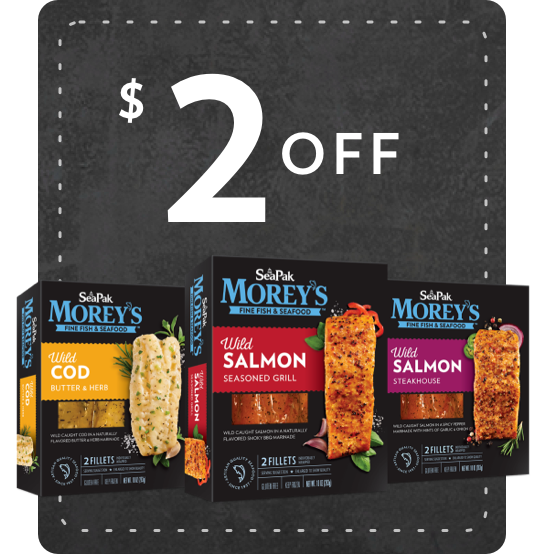 Sign Up and Save.
From delicious recipes to cooking tips to special offers, we've selected the best catches for your inbox. We'll send a coupon directly to your inbox when you sign up!
Summary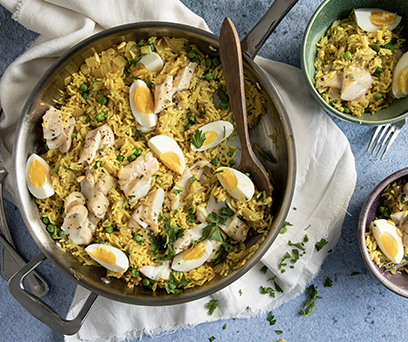 Recipe Name
Published On
Preparation Time
Cook Time
Total Time