Wild Cod Over Creamy Squash Nests
WITH WILD COD BUTTER & HERB
While these creamy, lemony squash nests could serve as a base for almost any protein; they are particularly satisfying with our Wild Cod Butter & Herb and blistered cherry tomatoes. Serve Wild Cod Over Creamy Squash Nests alongside your favorite rice dish for a lovely spring meal.
Preparation Instructions
COOK FISH: Cook Morey's Wild Cod Butter & Herb according to package directions of your choice (we used the baking method).
PREP AND COOK SQUASH: Bring a medium pot filled with salted water to a boil. Cut off ends of squash and discard. Grate squash using the large hole side of a box grater.

Add squash to the boiling water and cook for 1 minute. Turn off heat and drain squash very well (push the squash in the colander with the back of a spatula to press out all of the water).

Return squash to the still-warm pan and add goat cheese, lemon zest, and lemon juice. Stir once and cover. Let the covered pot sit for 2 minutes (don't peek). Add 1/4 teaspoon salt, 1/4 teaspoon pepper, and the dill. Stir until all of the goat cheese has melted and the mixture is creamy. Cover and set aside.
BLISTER TOMATOES: In a medium sauté pan over medium heat, add 2 tablespoons olive oil. When the oil begins to shimmer, add the tomatoes, ¼ teaspoon salt, and a pinch of pepper. Cook, moving around the pan, just until the tomatoes begin to blister (1-2 minutes). Remove from heat.
TO SERVE: Divide zucchini between two bowls, top with blistered tomatoes and cod. Garnish with pan juices and sprigs of dill.
PRO TIP: Yellow squash makes a great substitute for the zucchini.
Ingredients
2 Morey's Wild Cod Butter & Herb fillets
2 medium zucchini squash
Zest and juice from 1 lemon
4 ounces goat cheese
1 Tbsp. chopped dill, plus more for garnish
1 1/2 cups cherry tomatoes
2 Tbsp. olive oil
Kosher salt
Coarsely ground black pepper
Chardonnay
The Hugo
Pilsner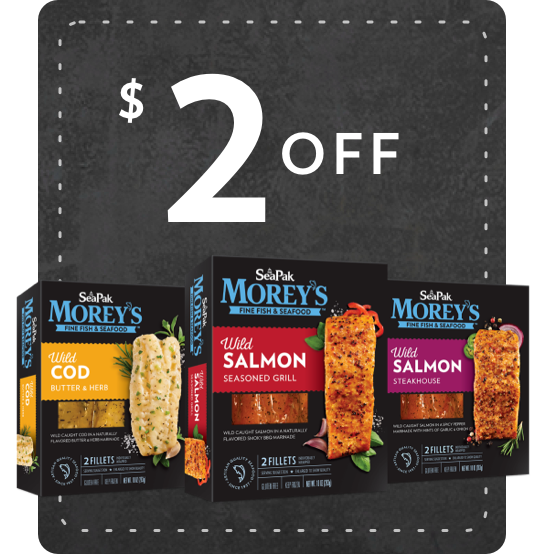 Sign Up and Save.
From delicious recipes to cooking tips to special offers, we've selected the best catches for your inbox. We'll send a coupon directly to your inbox when you sign up!
Summary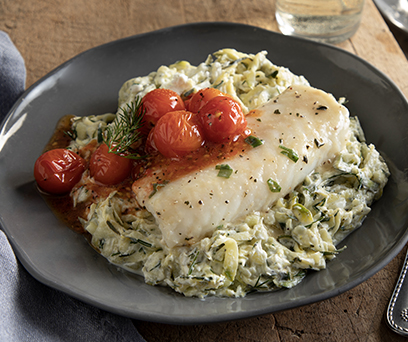 Recipe Name
Wild Cod Over Creamy Squash Nests
Author Name
Morey's Fine Fish & Seafood
Published On
Preparation Time
Cook Time
Total Time