Preparation Instructions
COOK FISH: Cook Morey's Wild Cod Butter & Herb according to package directions of your choice (we used the baking method). Flake into large pieces.
START SOUP: Add canola oil to a large saucepan over medium heat. Stir in garlic and 1/2 teaspoon cumin. Cook, stirring, for 1 minute. Stir in Pico de Gallo, corn, and the juice from 2 of the quarters of lime. Cook, stirring often, for 5 minutes. Stir in stock and bring to a simmer. Salt and pepper to taste. Reduce heat to low. Cover and simmer for 5 minutes.
PREP AVOCADOS: While soup is simmering, dice the avocados by cutting in half, removing the pit, using a paring knife to crosshatch the flesh, and scoop out the flesh with a spoon.
TO SERVE: Divide avocado between two shallow soup bowls. Ladle soup over avocado. Top with cod. Squeeze remaining lime juice over each and divide radish between each bowl. Serve with charred corn tortillas for dipping.
PRO TIP: A crispy tortilla chip crushed over the top makes a nice soup garnish.
Ingredients
2 tsp. canola oil
2 garlic cloves, minced
1/2 tsp. ground cumin
1 cup prepared Pico de Gallo
1 cup sweet corn kernels
1 lime, cut into quarters and divided
4 cups vegetable or chicken stock
2 whole avocados
Hot sauce (optional)
1 large radish, thinly sliced
Charred corn tortillas for serving (optional)
Kosher salt
Coarsely ground black pepper
Prep Time
25 minutes
Serving Size
2
Additional Product Options
You can also use:
Tilapia Seasoned Grill
Drink Pairings
Albariño
Agua de Valencia
Lager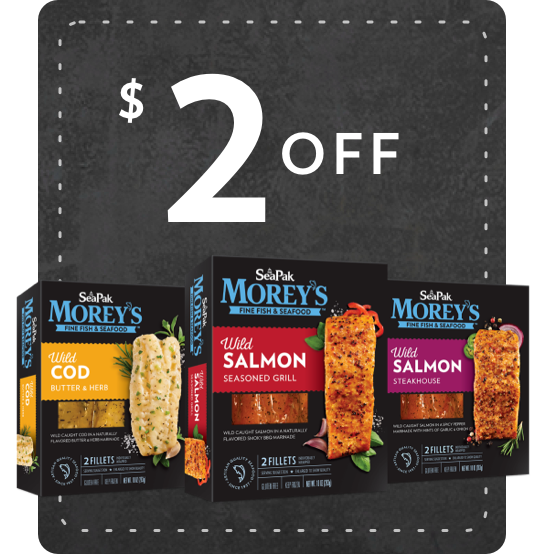 Sign Up and Save.
From delicious recipes to cooking tips to special offers, we've selected the best catches for your inbox. We'll send a coupon directly to your inbox when you sign up!