Preparation Instructions
COOK FISH: Cook Morey's Wild Cod Butter & Herb according to package directions of your choice (we used the baking method).
MAKE STRAWBERRY MIXTURE: In a medium mixing bowl, stir together strawberries, zest, and juice of one half of the lemon (cut the other half into two pieces and save for serving), orange zest, maple syrup, and chives. Season with salt and pepper. Set aside.
TO SERVE COD SALAD: Divide spinach between two bowls. Top each with one of the warm cod fillets. Spoon strawberry mixture over each. Drizzle each with olive oil and a squeeze of the reserved lemon. Finish with a pinch of salt and pepper.
PRO TIP: A peppery arugula makes a nice substitution for the spinach.
Ingredients
2 Morey's Wild Cod Butter & Herb fillets
2 cups strawberries, stemmed and quartered
1 lemon
1/2 tsp. orange zest
1 tsp. maple syrup
1 Tbsp. chives, finely chopped
4 cups baby spinach, washed
2 tsp. olive oil
Kosher salt
Coarsely ground black pepper
Grenache
Garibaldi
Light Lager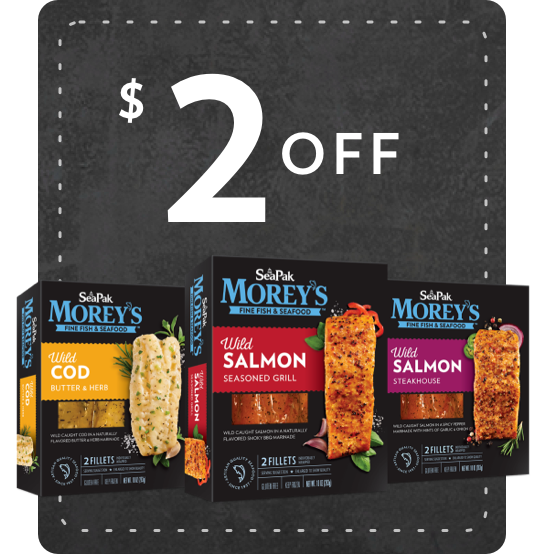 Sign Up and Save.
From delicious recipes to cooking tips to special offers, we've selected the best catches for your inbox. We'll send a coupon directly to your inbox when you sign up!
Summary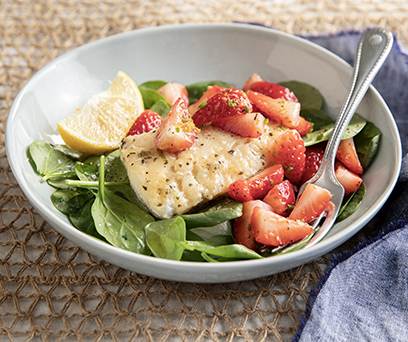 Recipe Name
Herb Lemon Cod Salad with Strawberries
Author Name
Morey's Fine Fish & Seafood
Published On
Preparation Time
Cook Time
Total Time