Preparation Instructions
STEP 1: Preheat oven to 350°F
STEP 2: Place Seasoned Grill Salmon skin-side down in wrapper on microwave-safe plate. Poke 2 small holes in each bag. Cook on high for 2 1/2 minutes. Remove plate from microwave, remove fish from bags. Reserve the sauce in medium-size bowl.
STEP 3: Remove fish skin and slice fish into 1/2″ thick slices. Whisk reserved sauce with a fork, pour over sliced salmon and gently toss. Set aside. Fish will finish baking on flatbread.
STEP 4: Heat cream in small saucepan over medium heat. Whisk in garlic, bring to a low boil, reduce heat and simmer gently over low heat for 2 to 3 minutes.
STEP 5: Whisk cream cheese into cream, mixing continuously to melt. Whisk 1 cup of Parmigiano Reggiano into cheese mixture. Continue whisking until sauce is smooth. Add 1/2 cup mozzarella. Remove sauce from heat and set aside.
STEP 6: Heat olive oil in small skillet over high heat. Add sliced onions and sauté over medium-high heat 3 to 4 minutes until onions are caramelized and golden.
STEP 7: Place the flatbread on parchment-lined cookie sheets.
STEP 8: Spread each flatbread with 1/4 cup of cheese sauce. Arrange a portion of sliced salmon over each flatbread, add onion, 1/2 tablespoon of capers per flatbread, and sprinkle with remaining Parmigiano Reggiano. Top each flatbread with additional mozzarella.
STEP 9: Bake for 12 to 15 minutes until edges of bread begin to turn light golden brown.
STEP 10: Top each flatbread immediately with fresh chives. Allow flatbread to sit 1 to 2 minutes on cookie sheets to crisp.
STEP 11: Season with fresh pepper and salt to taste. Serve hot.
Ingredients
6 Morey's Seasoned Grill Salmon fillets
1/2 cup heavy cream
4 garlic cloves, minced
1, 8-ounce package cream cheese or Boursin
1 1/3 cups shredded Parmigiano Reggiano (divided)
2 Tbsp. olive oil
1 large red onion, sliced thin
2 Tbsp. non-pareil capers, drained (optional)
1, 11.2-ounce package of flatbread
6 Tbsp. fresh chives, chopped
1/2 cup fresh mozzarella cheese, torn
Proscecco
Tom Collins
Pilsner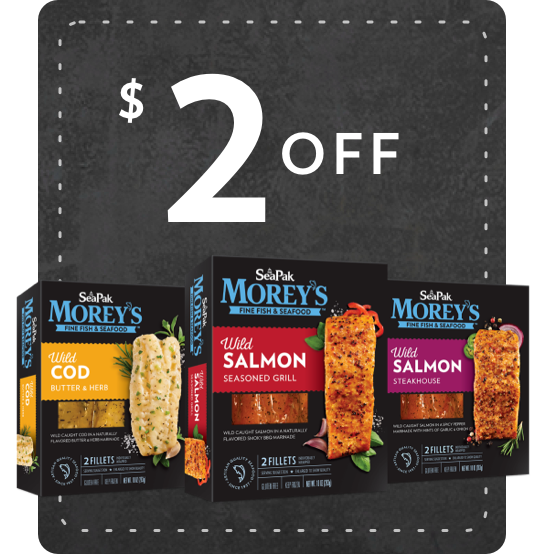 Sign Up and Save.
From delicious recipes to cooking tips to special offers, we've selected the best catches for your inbox. We'll send a coupon directly to your inbox when you sign up!