Preparation Instructions
TOPPING: Prepare Seasoned Grill Salmon fillets per package instructions. Remove and discard the skin. Place salmon in a glass bowl and flake apart with a fork into small pieces. Cool to room temperature.
Add tomatoes, onion, garlic, basil, olive oil, salt, pepper, and balsamic vinegar to salmon. Toss to mix well. Refrigerate for at least one hour.
BREAD: Preheat oven to 425° F.
In a small bowl, whisk together olive oil, garlic, salt, and pepper.
Cut bread into approximate 3/8″ slices using bias cuts.
Brush the garlic oil onto one side of each bread slice and place oil-side up on a baking sheet.
Bake for 12 minutes or until edges of bread begin to brown.
Remove from oven and let cool.
ASSEMBLY: Top each slice of the toasted bread with a heaping spoonful of topping.
Sprinkle with shredded Parmigiano Reggiano and serve.
TIP: Morey's Wild Smoked Salmon Classic also works beautifully in this dish.
Ingredients
For Topping
3 Morey's Seasoned Grill Salmon fillets
8 Roma tomatoes, diced
1/2 medium yellow onion, diced
3 tsp. garlic, minced
2 Tbsp. fresh basil, chopped
4 Tbsp. olive oil
2 tsp. balsamic vinegar
1/2 cup shredded Parmigiano Reggiano
Salt and freshly ground black pepper to taste

For Bread
1 French baguette or loaf of Italian bread
1 tsp. minced garlic
1/4 cup olive oil
Syrah
Cosmopolitan
Amber Ale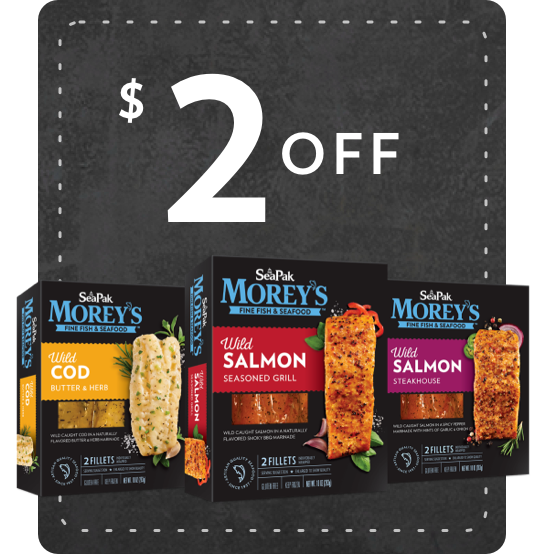 Sign Up and Save.
From delicious recipes to cooking tips to special offers, we've selected the best catches for your inbox. We'll send a coupon directly to your inbox when you sign up!