Salmon and Egg Bread Boats
WITH WILD SALMON SEASONED GRILL
Get ready to say oui to this Salmon and Egg Bread Boat recipe, featuring flaky, delicious salmon and a crispy, buttery French baguette toasted to perfection. Melted gruyere, herbed salmon, eggs, chives, crème fraîche, and capers give this recipe so much flavor your mouth is going to be speechless.

These Salmon and Egg Bread Boats make a perfect weeknight dinner paired with a salad and a white Burgundy. They're also perfect for brunch when served with a Bloody Mary or mimosa. Either way, we predict you'll keep this winning recipe in your repertoire.
Preparation Instructions
PREP BREAD: Preheat oven to 350ºF. Line a baking sheet with foil. Cut a deep V into the top of each baguette. Remove the top and the interior of the bread, leaving no more than 1/2 inch on the bottom and sides. (Save the tops and interior bread for making homemade breadcrumbs.) Brush the outside of the bread with olive oil. Set bread on the prepared tray.
NOTE: The bread needs to stay upright and stable. A trick to keep it that way is to ball up some long pieces of foil and put them on either side of the bread to keep it from tipping over. Layer half of the cheese on the bottom of the bread.
MIX EGGS: In a medium bowl, whisk together the eggs, crème fraîche, remaining cheese, chives, and ¼ teaspoon each salt and pepper.
FINISH BREAD BOAT AND BAKE: Pour egg mixture into the bread boats, filling each not quite all the way to the top (you won't use all of the egg mixture). Allow egg mixture to settle and soak into the bread (about a minute). Top off the bread with more eggs as needed. Sprinkle tops with capers.
Bake bread boats until eggs are set and golden (about 30-35 minutes). Allow to cool for 5 minutes before cutting and serving.
BAKE FISH: Cook Morey's Wild Salmon Seasoned Grill according to the baking directions. Place in the oven after the bread boats have been in 15 minutes. After fully cooked, remove skin and flake into large pieces.
TO SERVE: Top each bread boat with salmon and a handful of arugula. Drizzle arugula with olive oil, a squeeze of lemon juice, and a pinch of salt and pepper.
PRO TIP: Wrap your finished bread boats in foil (without the arugula salad on top), refrigerate, and reheat in the oven!
Ingredients
4 demi-baguettes or one long baguette
Olive oil
1 cup shredded Gruyere cheese, divided
6 eggs
1/3 cup crème fraîche (optional to substitute sour cream)
2 Tbsp. chopped chives
1 Tbsp. capers
2 cups arugula
1 lemon, cut in half
Kosher salt
Coarsely ground black pepper
White Burgundy
Bloody Mary
Coffee Porter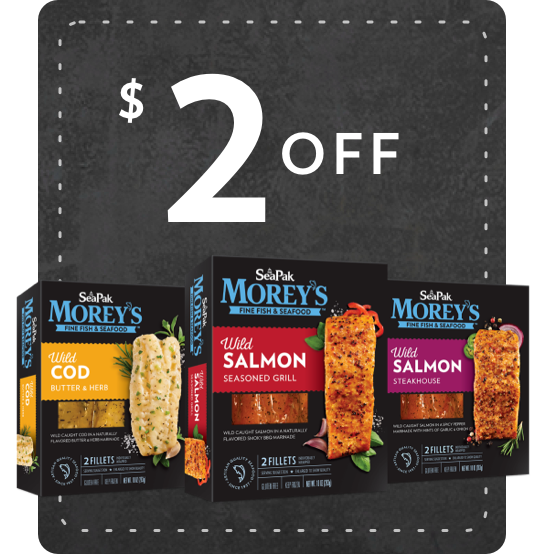 Sign Up and Save.
From delicious recipes to cooking tips to special offers, we've selected the best catches for your inbox. We'll send a coupon directly to your inbox when you sign up!