Preparation Instructions
STEP 1: Preheat oven to 400°F.
STEP 2: Heat olive oil in a cast iron skillet over medium heat. Add the leek, shallot, green onions, and sauté for 1-2 minutes. Remove from heat.
STEP 3: In a large mixing bowl, add eggs and yogurt, whisk.
STEP 4: Add the chopped parsley and dill.
STEP 5: Pour egg mixture into skillet. Return skillet to medium heat and sprinkle with flaked Morey's Wild Salmon Steakhouse and shredded Gruyere.
STEP 6: Cook on the stove for 5-6 minutes or until mixture begins to set.
STEP 7: Transfer skillet to the middle shelf in the oven. Bake for 12-18 minutes until cheese is golden.
STEP 8: Once set, remove from oven and allow to cool for 5 minutes.
TIP: Morey's Wild Smoked Salmon Classic also works beautifully in this dish.
Ingredients
3 Morey's Wild Salmon Steakhouse fillets, prepared, skin removed, and flaked
2 Tbsp. olive oil
1 leek cleaned and diced, white and green parts
1 shallot, diced
3 green onions, thinly sliced
10 large eggs
1 cup plain Greek yogurt
1 bunch fresh parsley, chopped
1 bunch fresh dill, chopped
4 oz. shredded Gruyere cheese
Chenin Blanc
Bloody Mary
Gose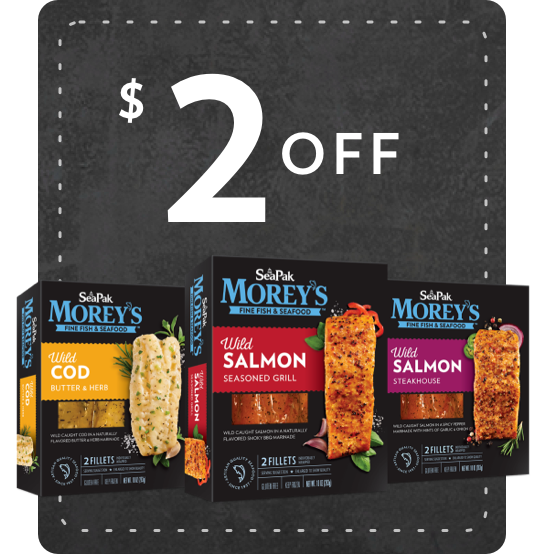 Sign Up and Save.
From delicious recipes to cooking tips to special offers, we've selected the best catches for your inbox. We'll send a coupon directly to your inbox when you sign up!