Salmon Oscar
WITH WILD SALMON STEAKHOUSE
You bring the candles and the white tablecloths; we have the perfect steakhouse dinner entrée. This new take on Wild Salmon Steakhouse is marinated with white and black pepper and notes of jalapeño and rosemary. The crab and homemade hollandaise sauce are a delicious complement.

Sure, Steak Oscar and Chicken Oscar might be nice, but Salmon Oscar takes the crown. Food cooked "Oscar" style typically includes jumbo lump crab in a rich bearnaise sauce and bright, flavorful asparagus. It may seem like an intimidating dish, but you'll be pleased to discover it's pretty easy to prepare and virtually foolproof.

Morey's Wild Salmon Steakhouse fillets take center stage in this Salmon Oscar recipe. Our Wild Salmon Seasoned Grill fillets or Wild Salmon Lemon Herb fillets are tasty alternatives as well. Each variety brings something unique to this recipe, and it just takes about 30 minutes. Pour a chilled glass of Sauvignon Blanc and you've got a gourmet meal.
Preparation Instructions
COOK FISH: Grill salmon fillets according to package directions.
COOK ASPARAGUS: Preheat oven to 425 degrees. Drizzle asparagus with the olive oil and toss to coat the spears, then sprinkle with garlic, salt, and pepper. Arrange asparagus on a baking sheet in a single layer. Bake in preheated oven until just tender, 12 to 15 minutes depending on thickness.
PREPARE CRAB: While the salmon and asparagus are cooking, melt 2 tablespoons of butter in a saucepan over medium heat. Once the butter is melted, add the lump crab meat. Cook for 1-2 minutes, just until the crab is heated through. Set aside and cover to keep warm.
MAKE HOMEMADE HOLLANDAISE SAUCE: Vigorously whisk together the egg yolks and lemon juice in a stainless-steel bowl until the mixture is thickened. Use a double boiler or place the bowl over a saucepan containing barely simmering water (the water should not touch the bottom of the bowl). Continue to whisk rapidly. 
Note: Be careful not to let the eggs get too hot or they will scramble.
Slowly drizzle in the melted butter and continue to whisk until the hollandaise sauce is thickened and has doubled in volume. Remove from heat, whisk in cayenne and salt. Cover and keep warm until ready to use.
TO SERVE: Put asparagus on plate and place cooked salmon on top of asparagus. Next, spoon a few ounces of crab meat on top of the salmon and finish with the hollandaise sauce.
Ingredients
4 Morey's Wild Salmon Steakhouse fillets
1 bunch asparagus, trimmed
1-2 Tbsp. olive oil
Kosher salt and pepper to taste
1 clove garlic, minced
6 oz. lump crab meat
2 Tbsp. butter
4 egg yolks
1 Tbsp. lemon juice
1/2 cup butter, melted
Cayenne, pinch
Salt, pinch
Sauvignon Blanc
Gin Martini
Brown Ale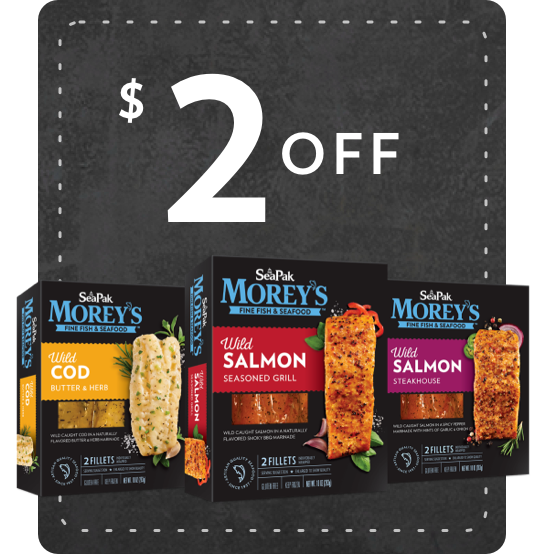 Sign Up and Save.
From delicious recipes to cooking tips to special offers, we've selected the best catches for your inbox. We'll send a coupon directly to your inbox when you sign up!
Summary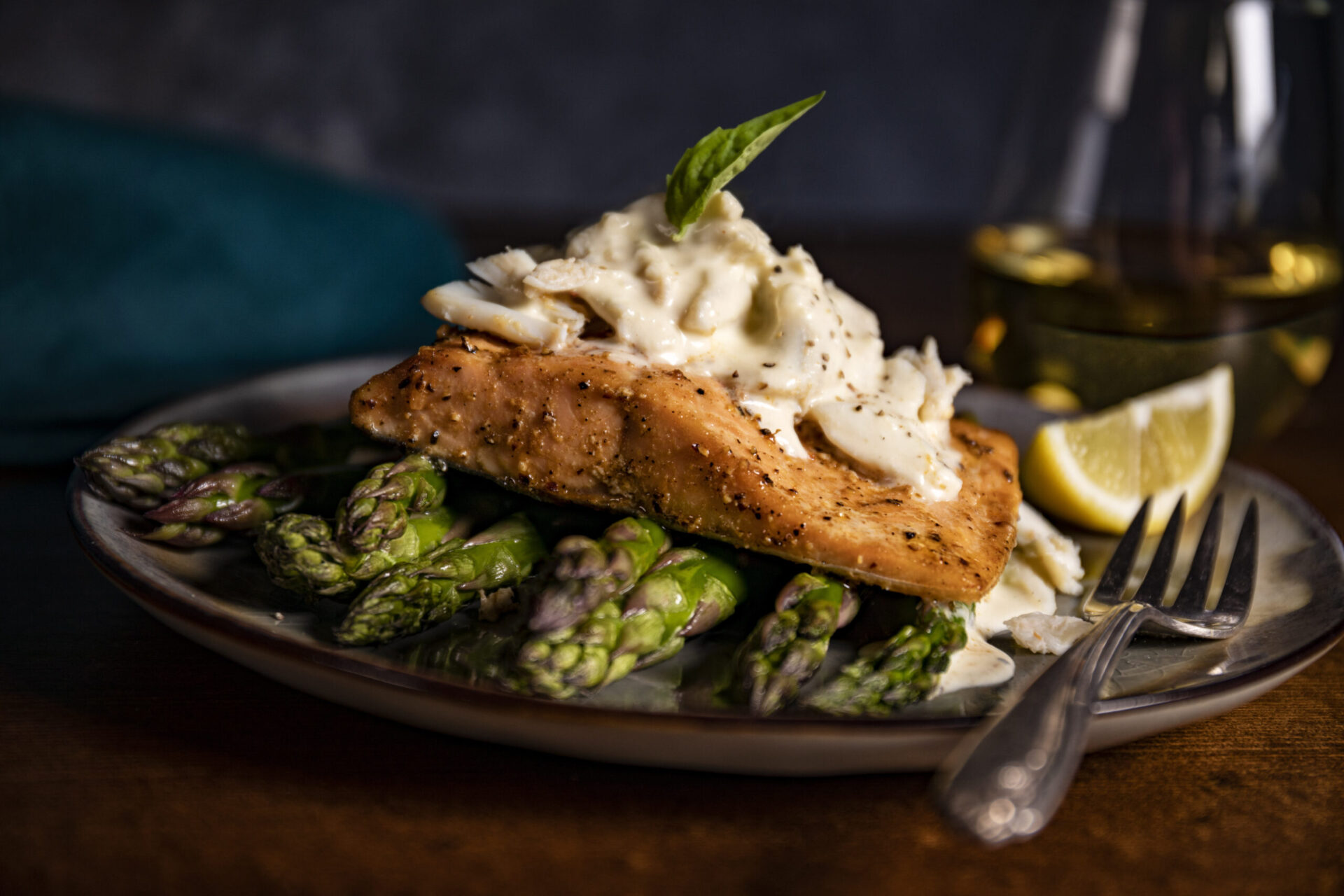 Recipe Name
Author Name
Morey's Fine Fish & Seafood
Published On
Preparation Time
Cook Time
Total Time