Preparation Instructions
STEP 1: Cut the potatoes into medium cubes and boil them in salt water for 10 minutes. Drain and let cool.
STEP 2: Dice bacon and fry until very crisp for 8-10 minutes. Remove bacon from pan and place on paper towels to drain. Reserve small amount of bacon grease in pan.
STEP 3: In same pan add scallions, creamed corn, garlic, thyme, carrots, green beans, and red pepper flakes on medium heat. Stir occasionally until the scallions are tender (5 minutes).
STEP 4: In large pot, pour milk and cream and bring to just under a boil. Do not burn.
STEP 5: Add vegetables and bacon fat from frying pan. Reduce heat to medium low, add potatoes, Morey's Wild Salmon Seasoned Grill flakes, bacon, sea salt, chili powder, and fresh ground pepper.
STEP 6: Add a splash of mirin or white wine to taste (optional).
STEP 7: Simmer 8-10 minutes, stirring occasionally.
STEP 8: Adjust seasoning and serve with crusty bread, grilled cheese, or crackers.
Ingredients
4 Morey's Wild Salmon Seasoned Grill fillets, cut into 1-inch pieces
1/2-pound Yukon Gold potatoes
8 strips of bacon
1 cup scallions, chopped
14.75 oz. creamed corn (fresh or canned)
2 cloves of garlic, minced
1 tsp. fresh thyme
1/2 Tbsp. chili powder
1/4 Tbsp. red pepper flakes
1 cup carrots, chopped
1 cup French green beans, chopped
3 cups whole milk
1 cup heavy cream
Salt and freshly ground black pepper
Splash of mirin or white wine (optional)
Chardonnay
Rum Old Fashioned
IPA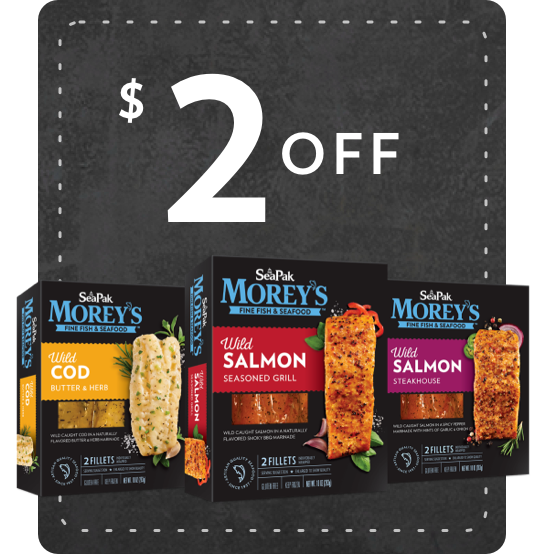 Sign Up and Save.
From delicious recipes to cooking tips to special offers, we've selected the best catches for your inbox. We'll send a coupon directly to your inbox when you sign up!