Preparation Instructions
STEP 1: Sauté onion and garlic until onion is translucent, about 8 minutes.
STEP 2: Stir in thyme, oregano, red pepper flakes, and bay leaf. Combine flavors for 1 minute.
STEP 3: Add crushed tomatoes, white wine, water, and clam juice. Bring to a simmer.
STEP 4: Add cleaned clams, cover, and simmer about 10 minutes until clams open.
STEP 5: Add Morey's Wild Cod Butter & Herb fillets, and raw shrimp, and simmer, covered, 2-3 minutes or until fish and shrimp are opaque. Discard the bay leaf and any unopened clams.
STEP 6: Salt and pepper to taste. Serve with crusty bread and butter. Top with parsley.
TIP: If you are using cooked clams, add them at the same time as the Wild Cod Butter and Herb and shrimp.
Ingredients
2 pounds large raw shrimp, deveined
24 clams, scrubbed
2 Tbsp. olive oil
1 cup white onion, chopped
4 cloves garlic, sliced thin
1 1/2 tsp. fresh thyme
3 tsp. oregano
1/2 tsp. crushed red pepper
1 bay leaf
1 can crushed tomatoes (28 oz.)
1 cup dry white wine
1 cup water
1 cup bottled clam juice
Salt and freshly ground black pepper
Fresh parsley, chopped (optional)
Prep Time
45 minutes
Serving Size
8
Additional Product Options
You can also use:
Tilapia Seasoned Grill
Drink Pairings
Albarino
Moscow Mule
Spanish Cider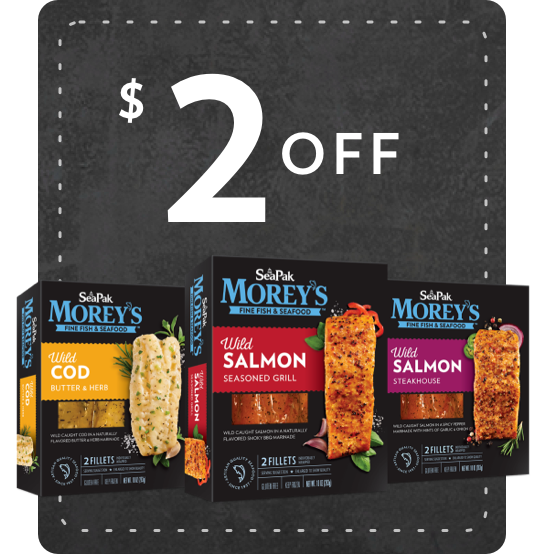 Sign Up and Save.
From delicious recipes to cooking tips to special offers, we've selected the best catches for your inbox. We'll send a coupon directly to your inbox when you sign up!