Seasoned Grill Salmon Sliders
WITH WILD SALMON SEASONED GRILL
In this salmon sliders recipe, tangy dill aioli pairs perfectly with the salmon's smoky blend of seasoning, and the cucumber or radish adds an irresistible crunch, creating the ideal bite-sized appetizer or weeknight meal layer by delicious layer.
Preparation Instructions
PREPARE FISH: Preheat oven to 375 degrees Fahrenheit. Remove each salmon fillet from pouch and cut in half crosswise. Place in a single layer, not touching, with flat side down on a foil-lined baking pan with sides. Pour any remaining marinade over fish.
MAKE AIOLI: In small bowl, combine aioli ingredients and mix well. Set aside until fish is ready.
BAKE: Bake on the middle rack of the oven for 15-18 minutes or until fish is cooked through.
TO SERVE SALMON SLIDERS: Place cucumber and greens onto each bottom bun and add one piece of salmon to each sandwich. Top with Dill Aioli and top bun. If desired, secure top bun with toothpick or skewer.
Ingredients
4 Morey's Wild Salmon Seasoned Grill fillets, thawed
8 slider buns or dinner rolls, cut in half
Dill Aioli, recipe below
16 slices cucumber or radish
1 cup micro greens or sprouts

Dill Aioli
Makes about 1/2 cup
1/2 cup mayonnaise
1 tablespoon chopped fresh dill
1 clove garlic, finely minced
1/4 teaspoon kosher salt
1/4 teaspoon freshly ground black pepper
Prep Time
15 min
Cook Time
18 min
Serving Size
4 to 6
Additional Product Options
You can also use:
Wild Salmon Steakhouse

Drink Pairings
Alpine White
The Ranger
Saison
Summary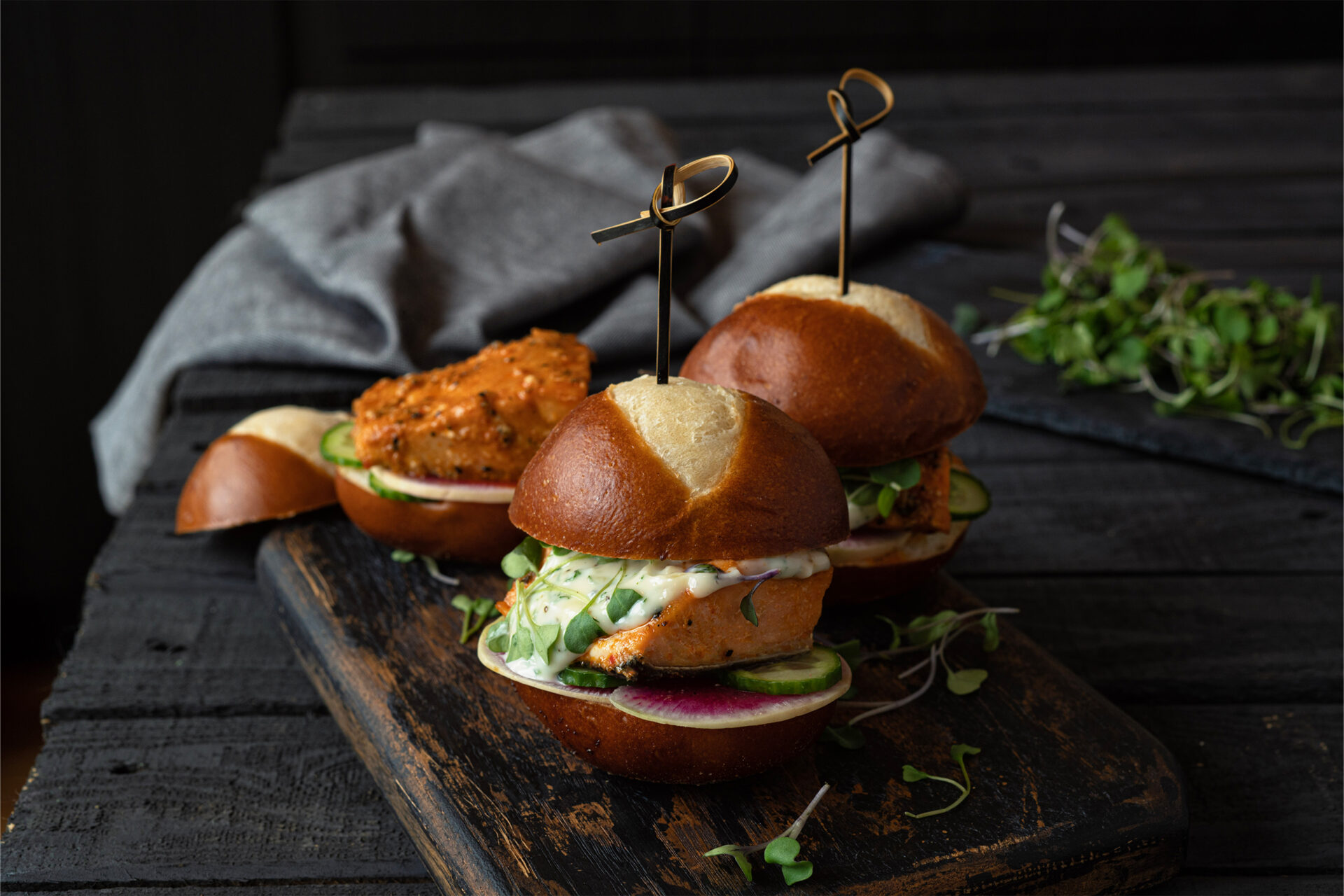 Recipe Name
Seasoned Grill Salmon Sliders
Author Name
Morey's Fine Fish & Seafood
Published On
Preparation Time
Cook Time
Total Time