Steakhouse Salmon Quinoa Bowl
WITH WILD SALMON STEAKHOUSE
This Steakhouse Salmon Quinoa Bowl recipe puts two superfoods together – salmon and quinoa – to produce a nutritious and hearty meal that comes together in about 30 minutes. While the quinoa and salmon cook, mix up the aromatic homemade dressing made with lime, jalapeño, honey, red wine vinegar, and olive oil. Set your table and prepare for a relaxing meal at home.

This Steakhouse Salmon Quinoa Bowl is the kind of meal that leaves you feeling like a bonafide foodie. It's perfect to enjoy after an evening walk or as dinner for Self-Care Sunday. Enjoy this dish with a crisp glass of rosé or a medium-bodied lager.
Preparation Instructions
RINSE QUINOA: Place the quinoa in a fine-mesh strainer and rinse under cold water for one minute, swishing the quinoa with your hand while rinsing. Drain. Note: if you don't have a fine mesh strainer you can skip this step.
COOK QUINOA: In a medium saucepan, over medium-high heat, add 2 teaspoons of canola oil and the drained quinoa. Cook, stirring, for 1 minute. Add 2 cups water and 1/2 teaspoon salt to the pan. Bring to a rolling boil. Reduce heat to low and cook, covered for 15 minutes.
Remove from heat and let stand, covered, for 10 minutes. Fluff the quinoa gently with a fork.
NOTE: if any liquid remains in the bottom of the pan or if the quinoa is still "crunchy," don't worry, just return the pot to low heat and cook, covered, for another 5 minutes.
COOK FISH: While the quinoa is cooking, start the salmon. Cook Morey's Wild Salmon Steakhouse according to package directions of your choice (we recommend the baking method or grilling method for this recipe). Remove skin.
MAKE THE DRESSING: In a small mixing bowl, whisk together the lime zest, lime juice, minced jalapeño (use less jalapeño if you don't like as much heat), honey, red wine vinegar, and 1 tablespoon olive oil. Salt and pepper to taste.
FINISH THE QUINOA SALAD: In a large mixing bowl, add the fluffed quinoa, Pico de Gallo, and all but 1 tablespoon of dressing. Toss to coat. Salt and pepper to taste. Add arugula and gently toss to coat.
TO SERVE: Divide mixture between two bowls. Top each with salmon and sliced avocado. Drizzle each with reserved dressing. Serve lime wedges alongside.
PRO TIP: If you don't care for a peppery green like arugula, substitute baby spinach.
Ingredients
1 cup red quinoa
1 Tbsp. plus 2 teaspoons olive oil
Zest and juice of 1 lime, plus lime wedges for garnish
1/2 jalapeño pepper, finely minced
2 tsp. honey
1 Tbsp. red wine vinegar
1 cup prepared Pico de Gallo
2 cups arugula
1 avocado
Kosher salt
Coarsely ground black pepper
Pinot Noir
Cucumber Gin Martini
Brown Ale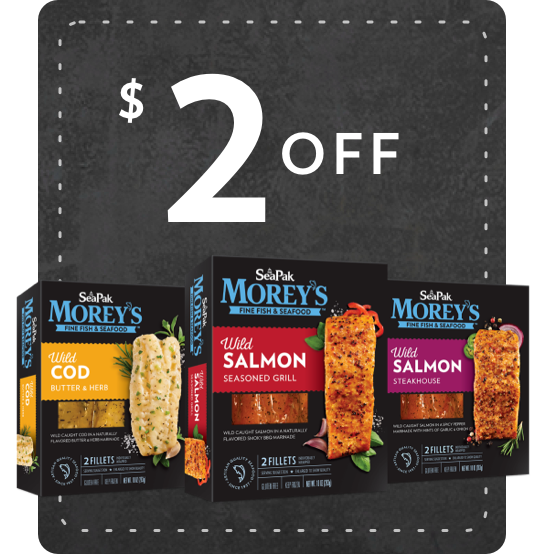 Sign Up and Save.
From delicious recipes to cooking tips to special offers, we've selected the best catches for your inbox. We'll send a coupon directly to your inbox when you sign up!
Summary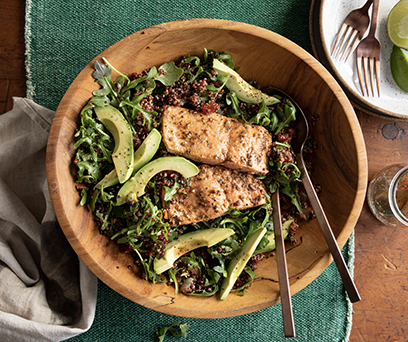 Recipe Name
Steakhouse Salmon Quinoa Bowl
Author Name
Published On
Preparation Time
Cook Time
Total Time