Wild Salmon Steakhouse
WITH CAULIFLOWER RICE & ASPARAGUS PILAF
The spicy marinated Wild Salmon Steakhouse fillet sits perfectly atop a bed of Cauliflower Rice & Asparagus Pilaf, which mimics the flavors of the wild-caught salmon and is finished with a bright burst of lemon zest and crunchy nuttiness from sliced almonds. A bonus for this recipe is that the pilaf comes together in the exact amount of time it takes the thawed salmon to bake, making this an easy go-to dinner any night of the week.

This recipe was created in collaboration with @pestoandpotatoes for the Morey's Friday Night Cooking Club.
Preparation Instructions
PREP FISH: Preheat the oven to 375°F. Line a small baking pan with foil or parchment paper.
Remove fillets from pouch and place in a single layer, not touching, with flat sides down, on baking sheet.
BAKE: Bake on the middle rack of oven for 15 to 18 minutes.
MAKE THE PILAF: Meanwhile, heat olive oil in a large skillet over medium-high heat.
Add white and light green parts of green onion and jalapeño and sauté for 2 to 3 minutes. Add chopped garlic and cook for 1 minute more.
Pour riced cauliflower into the pan and cook for about 5 minutes, stirring occasionally. Season with salt and pepper.
Add asparagus and continue cooking for 6 to 8 minutes, until the asparagus is tender but still firm.
Stir in green parts of green onion and sliced almonds, cooking for about 1 minute until combined.
Finish by zesting lemon into the skillet, then stir. Remove from heat.
TO SERVE: Add a portion of pilaf to each plate and top with cooked salmon fillet. Garnish with fresh lemon slices and jalapeño slices (optional) and serve.
Note: Pilaf portion of the recipe makes 4 servings. Cool leftovers to room temperature and store in an airtight container in the refrigerator for up to 4 days.
Ingredients
2 Morey's Wild Salmon Steakhouse fillets, thawed
1 ½ Tbsp. olive oil
1 bunch chopped green onions, white and green parts separated
3 Tbsp. jalapeño, diced
2 garlic cloves, chopped
12 ounces frozen riced cauliflower
¾ tsp. kosher salt
½ tsp. cracked black pepper
1 pound asparagus, cut into ½-inch pieces
¼ cup sliced almonds
1 Tbsp. lemon zest
Sliced lemon and jalapeño (optional), for garnish
Sauvignon Blanc
Gin Martini
Saison
Summary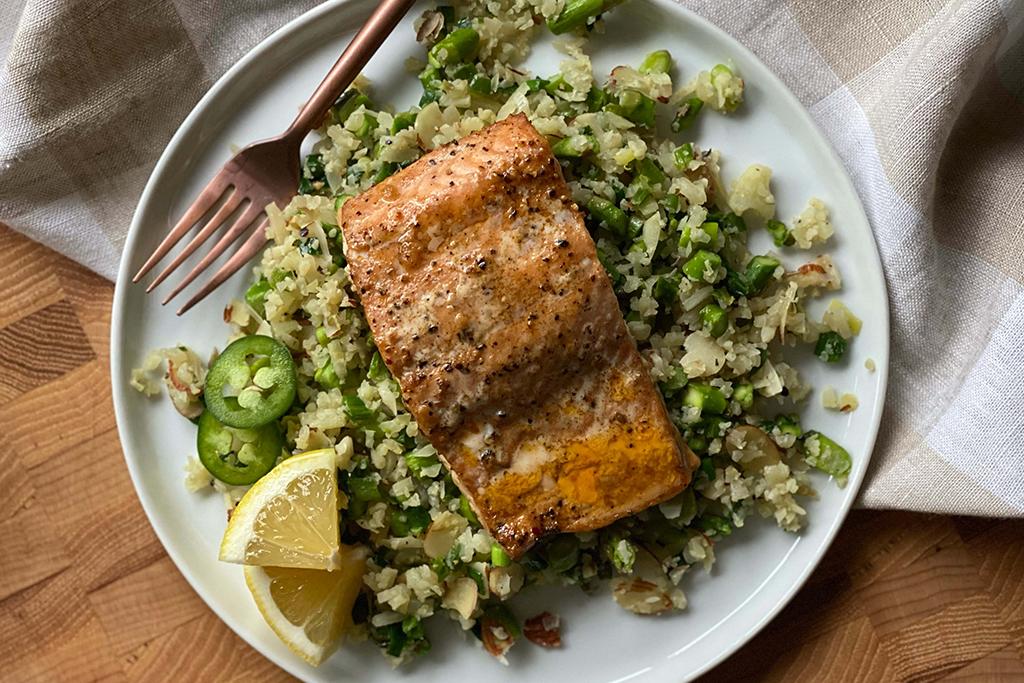 Recipe Name
Wild Salmon Steakhouse with Cauliflower Rice & Asparagus Pilaf
Author Name
Morey's Fine Fish & Seafood
Published On
Preparation Time
Cook Time
Total Time