Preparation Instructions
PREP FISH: Preheat oven to 375 degrees Fahrenheit. Remove fillets from pouch and place in a single layer, not touching, with flat side down, on a foil-lined baking pan with sides.
BAKE: Bake 15-18 minutes or until fish is opaque and cooked through.
PREPARE TOPPING: Meanwhile, place the rest of the ingredients in a medium-sized bowl. Mix and set aside.
TO SERVE: Place each fillet onto a plate and top with tomato bruschetta mixture and basil leaves.
Ingredients
2 Morey's Wild Salmon Seasoned Grill fillets, thawed
1 large ripe tomato, diced
2 Tbsp. extra virgin olive oil
2 Tbsp. balsamic vinegar
1 clove fresh garlic, minced
1/2 tsp. dried Italian seasoning
1/2 tsp. kosher salt
1/4 tsp. freshly ground black pepper
1/4 cup fresh basil leaves, chopped
Prep Time
5 min
Cook Time
20 min
Serving Size
2
Additional Product Options
You can also use:
Wild Salmon Steakhouse

Drink Pairings
Rose
Yellow Bird
Dark Amber Ale
Summary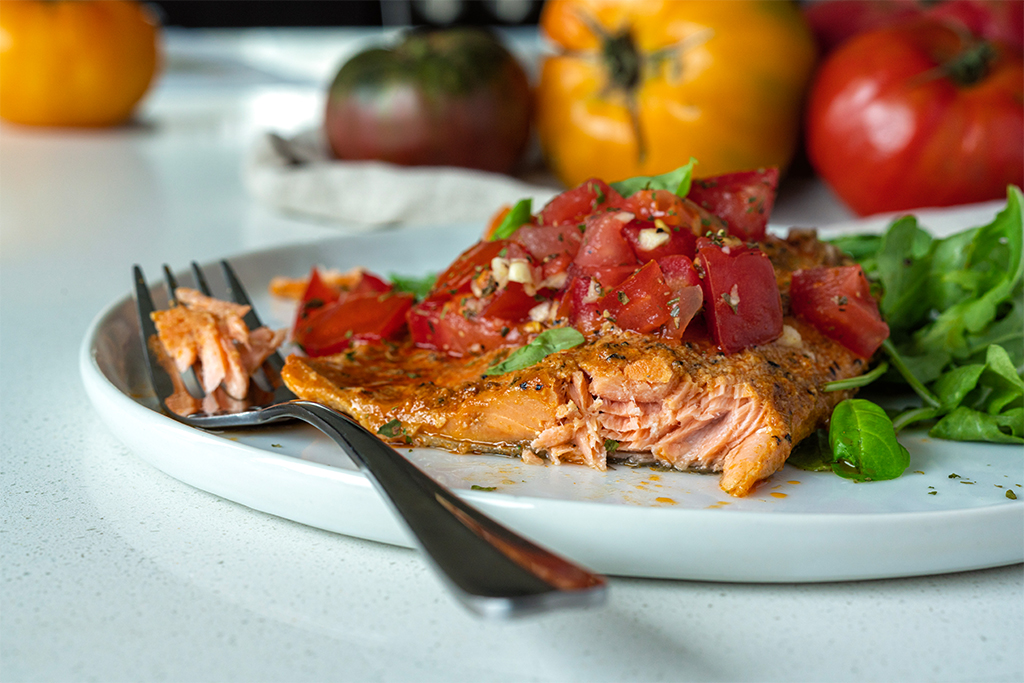 Recipe Name
Bruschetta Topped Seasoned Grill Salmon
Author Name
Morey's Fine Fish & Seafood
Published On
Preparation Time
Cook Time
Total Time