Butter & Herb Cod with Whipped Ricotta & Arugula Salad
WITH WILD COD BUTTER AND HERB
A simple whipped ricotta and arugula salad are the perfect companions for this flavorful baked cod! The basil and thyme are mirrored with fresh basil in the salad and thyme in the whipped ricotta, and the entire dish is so elegantly simple.

This recipe was created in collaboration with @aflavorjournal for the Morey's Friday Night Cooking Club.
Preparation Instructions
COOK FISH: Line a small rimmed baking sheet with foil. Preheat oven to 375°F. Remove fillets from pouch, place flat side down on the prepared baking sheet, and drizzle with marinade from pouch. Bake for 15-18 minutes.
MAKE WHIPPED RICOTTA: While the fish cooks, combine ricotta cheese, 1 tablespoon lemon juice, 2 teaspoons olive oil, thyme leaves, and ¼ teaspoon salt in a small food processor. Process until smooth and creamy.
MAKE ARUGULA SALAD: Combine the arugula, chopped basil, chopped parsley, ¼ teaspoon salt, pepper, 1 teaspoon olive oil, and 1 teaspoon lemon juice in a mixing bowl. Toss to combine.
TO SERVE: Spoon a large dollop of whipped ricotta onto a dinner plate. Lightly press the back of the spoon into the dollop, and create a swooping motion towards the bottom of the plate, lightly spreading the ricotta into a curve. Place half of the arugula salad next to the ricotta, then top with baked Wild Cod Butter & Herb fillet.
Ingredients
2 Morey's Wild Cod Butter & Herb fillets, thawed
½ cup ricotta cheese
1 Tbsp. + 1 tsp. fresh lemon juice, divided
1 Tbsp. extra virgin olive oil, divided
1 sprig fresh thyme leaves
½ tsp. salt, divided
2 cups arugula
2 Tbsp. chopped basil
2 Tbsp. chopped parsley
½ tsp. freshly cracked black pepper
Small handful fresh parsley, chopped
Sauvignon Blanc
Chelsea Sidecar
Irish Red
Summary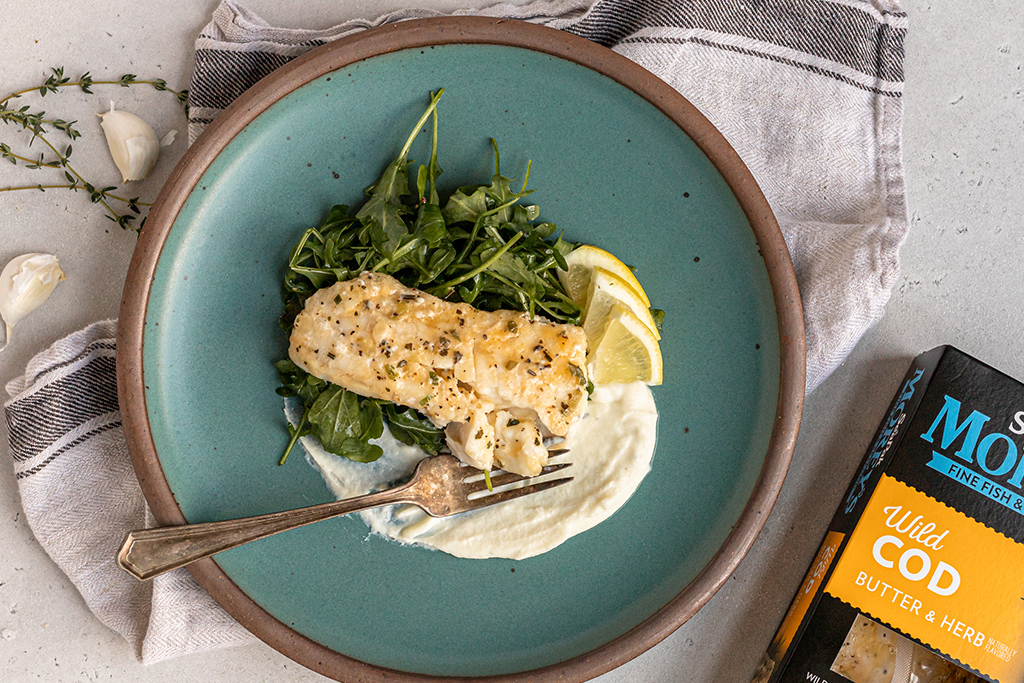 Recipe Name
Butter & Herb Cod with Whipped Ricotta & Arugula Salad
Author Name
Morey's Fine Fish & Seafood
Published On
Preparation Time
Cook Time
Total Time