Buttery Cod in a Skillet Pan Sauce
WITH WILD COD BUTTER AND HERB
This quick pan sauce brings out the freshness of ripe tomatoes and softly complements our Wild Cod Butter and Herb to perfection. While mini penne is the recommended pasta for a touch of heartiness, use whatever pasta you have on hand.
Preparation Instructions
COOK FISH: Cook Morey's Wild Cod Butter and Herb according to package directions of your choice (we used the baking method).
COOK PASTA: While fish is cooking, add pasta to a large pot of boiling salted water. Cook al dente. Reserve 1/2 cup pasta water and drain.
MAKE PAN SAUCE: In a large skillet over medium-low heat, add olive oil. Stir in onions and garlic and cook until onions become translucent (about 5 minutes).

Add halved cherry tomatoes and juice of 1/2 lemon. Cover and cook 5 minutes or until tomatoes are soft, mashing occasionally with a potato masher. Add 1/4 cup of the pasta water (more if your need a thinner sauce).

Salt and pepper to taste. Sprinkle with fresh basil leaves.
TO SERVE: Spoon pasta into bowls. Top with cod and spoon sauce over. Give each a squeeze of lemon juice. Top with Parmesan if you like, and garnish with basil.
PRO TIP: Change up your sauce to one with a Latin flavor by adding in half of a finely chopped jalapeño and trading cilantro for the basil.
Ingredients
2 Morey's Wild Cod Butter and Herb fillets
8 ounces mini penne pasta
2 Tbsp. olive oil
1/2 medium onion, chopped
2 cloves garlic, minced
3 cups cherry tomatoes, halved
1/4 cup fresh basil leaves, plus more for garnish
1 lemon, halved
Grated Parmesan cheese (optional)
Kosher salt
Coarsely ground black pepper
Prep Time
30 minutes
Serving Size
2
Additional Product Options
You can also use:
Tilapia Seasoned Grill
Drink Pairings
Roussanne
Gin fizz
Light dry ale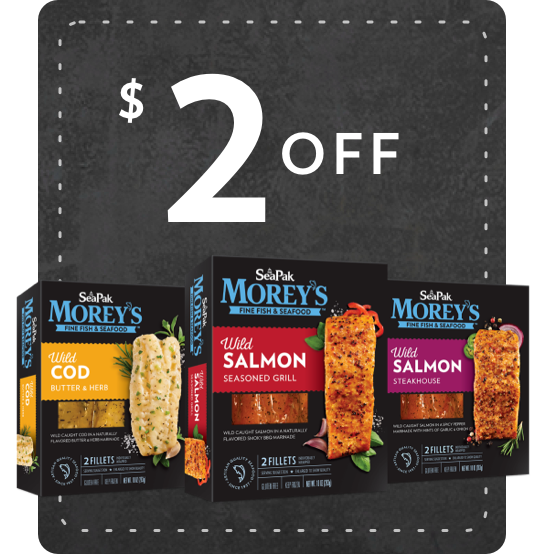 Sign Up and Save.
From delicious recipes to cooking tips to special offers, we've selected the best catches for your inbox. We'll send a coupon directly to your inbox when you sign up!