Preparation Instructions
STEP 1: Heat gas grill on medium or charcoal grill until coals are ash white.
STEP 2: Cut two sheets of foil about 12 inches long. Spray foil with non-stick cooking spray.
STEP 3: Boil water and add salt. Add corn and cook for ten minutes.
STEP 4: Cut vegetables and place in a bowl. Add cooked corn, butter, lemon zest and seasonings. Toss to coat.
STEP 5: Remove skin from Wild Salmon Steakhouse. Reserve marinade.
STEP 6: Divide the vegetable mixture over foil and top with salmon. Use reserved marinade to top salmon.
STEP 7: Squeeze fresh lemon over the top of each packet.
STEP 8: Fold the foil packet crosswise over the salmon mixture to completely cover the food. Roll the top and bottom edges to seal.
STEP 9: Place foil packet on the grill and cook until just cooked through, about 15-20 minutes.
STEP 10: Serve with lemon slices and additional sides of melted butter.
Ingredients
2 Tbsp. butter, melted
1 Tbsp. freshly grated lemon zest
1 Tbsp. Fisherman's Wharf seasoning (or seasoning of your choice)
8 oz. (10 to 16 spears) fresh asparagus, cut into thirds
4 ears of corn, cleaned and cut into thirds
1/2 pound red potatoes, cut into 1-inch cubes
1 cup fresh broccoli, diced
1/2 cup thinly sliced onion
2-3 lemons
Salt and freshly ground black pepper
Chardonnay
Aviation
Belgian Style Lambic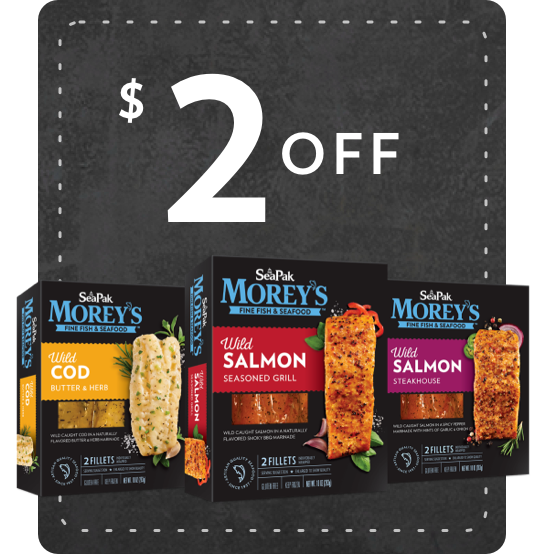 Sign Up and Save.
From delicious recipes to cooking tips to special offers, we've selected the best catches for your inbox. We'll send a coupon directly to your inbox when you sign up!