Roasted Wild Flounder
AND VEGETABLE GRAIN BOWL
Packed full of Mediterranean-inspired flavors, these Wild Flounder fillets are simple to cook yet so delicious. Served with mixed grains and roasted vegetables, this Roasted Wild Flounder and Vegetable Grain Bowl is perfect for a weeknight meal and even for a date night in. There's no need to season the grains or the vegetables with anything but salt because the marinade is amazing drizzled on top of everything.

This recipe was created in collaboration with @cookingwithawallflower for the Morey's Friday Night Cooking Club.
Preparation Instructions
PREPARATION INSTRUCTIONS: Preheat the oven to 375°F. Lightly grease a baking sheet with vegetable oil. Line a small baking sheet with foil. Set both aside for now.
TO MAKE THE ROASTED VEGETABLES: While the oven is preheating, slice the red bell peppers and remove the seeds, chop the bok choy or broccoli, slice the onions, and cut the mushrooms. Place the vegetables on the lightly greased baking sheet. Drizzle vegetable oil onto the vegetables. Mix to coat the vegetables with the vegetable oil.
Once the oven reaches 375°F: Place the baking sheet with the vegetables in the oven first. Cook for about 15 minutes before adding the Wild Flounder Garlic & Herb fillets to the oven.
TO MAKE THE WILD FLOUNDER: While the vegetables are in the oven, place Morey's Wild Flounder Garlic & Herb fillets onto the foil-lined baking sheet. Make sure to cover the fish in the included marinade sauce. This keeps the fillets from drying out. After the vegetables have been in the oven for about 15 minutes, place the fillets in the oven and bake about 15-18 minutes or until cooked.
Remove the Wild Flounder Garlic & Herb fillets and the roasted vegetables from the oven.
TO SERVE: Plate your favorite cooked grains into bowls.
Add the roasted vegetables onto the cooked grains, and then plate the wild flounder fillets. Drizzle any extra marinade left on the baking sheet over the fillets.
Top with chopped scallions if desired.
Serve the Roasted Wild Flounder and Vegetable Grain Bowls warm.
Ingredients
2 Morey's Wild Flounder Garlic & Herb fillets, thawed
1 small red bell pepper, sliced
2 large bok choy or 1 small head of broccoli, chopped
½ medium onion, sliced
4-5 cremini mushrooms, sliced
1 ½ Tbsp. vegetable oil
Pinch of salt
1 cup cooked mixed grains (rice, farro, quinoa), divided
1 scallion, chopped, for garnish (optional)
Prep Time
10 min
Cook Time
35 min
Serving Size
2
Additional Product Options
You can also use:
Wild Cod Butter and Herb

Drink Pairings
Assyrtiko
White Peach Sangria
Pilsner
Summary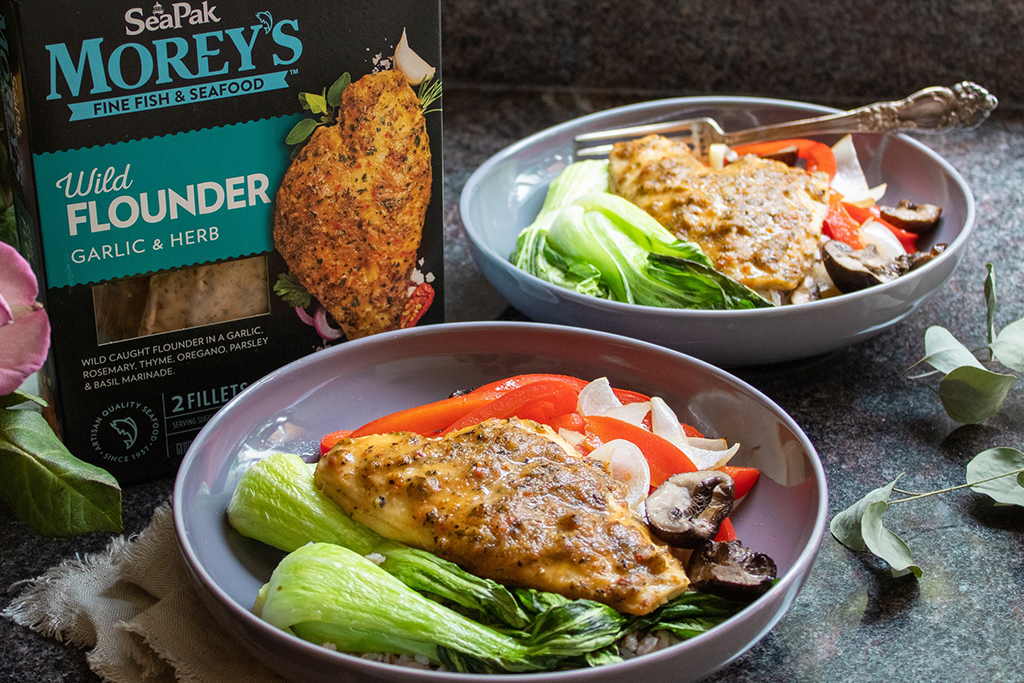 Recipe Name
Wild Salmon Steakhouse with Cauliflower Rice & Asparagus Pilaf
Author Name
Morey's Fine Fish & Seafood
Published On
Preparation Time
Cook Time
Total Time