Preparation Instructions
SALMON CAKES:
STEP 1: Cook Morey's Wild Salmon Steakhouse according to package instructions.
STEP 2: Preheat oven to 400°F.
STEP 3: When the fillets are done cooking, allow them to cool for 5 minutes. Remove the skin. Once removed, use a fork to flake the fish.
STEP 4: Melt butter in a skillet over medium heat. Sautee onion until translucent (about 5 minutes).
STEP 5: Place the salmon in a large bowl. Add sauteed onions, breadcrumbs, parsley, mayonnaise, mustard, egg, and lemon juice. Mix gently. Add salt and pepper.
STEP 6: Form the mixture into 1 1.2″ spheres and place on a parchment-lined baking sheet.
STEP 7: Bake at 400° for 18-20 minutes, just until they start to crisp and become golden.
STEP 8: Remove, sprinkle with smoked paprika and serve with slices of lemon and Sriracha Lemon Aioli.
SRIRACHA LEMON AIOLI:
Combine all ingredients in a small mixing bowl and whisk thoroughly.
MAKE-AHEAD TIP:
Once you form the cakes, freeze them on a cookie sheet for 2-3 hours. Once firm, transfer the cakes to a resealable storage bag and store for up to 60 days. The day you are ready to bake the cakes, place them back on a baking sheet while frozen and allow the cakes to thaw in the fridge for 4-5 hours before baking.
Ingredients
Salmon Cakes
4 Morey's Wild Salmon Steakhouse fillets
2 Tbsp. butter
1 large onion, diced
2/3 cup plain breadcrumbs
1/2 cup finely chopped fresh parsley
•1/3 cup mayonnaise
1/2 cup Dijon mustard
1 large egg, lightly beaten
4 Tbsp. lemon juice
Pinch of smoked paprika
Salt and freshly ground black pepper
Sriracha Lemon Aioli
1/2 cup mayonnaise
4 tsp. Sriracha sauce
4 tsp. lemon juice
1 clove garlic, minced
Moscato
Gin Fizz
Pilsner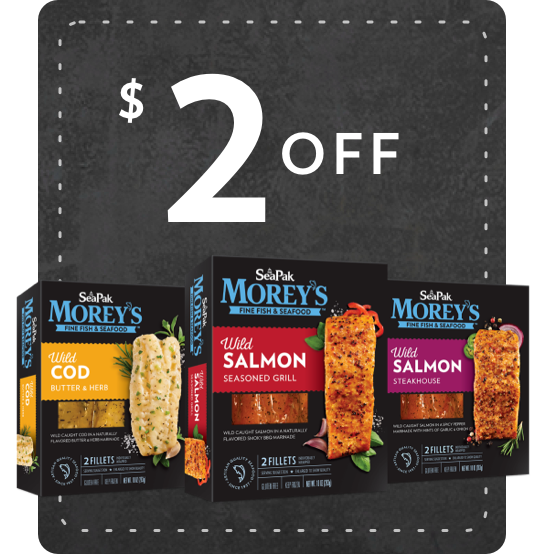 Sign Up and Save.
From delicious recipes to cooking tips to special offers, we've selected the best catches for your inbox. We'll send a coupon directly to your inbox when you sign up!