Preparation Instructions
COOK FISH: Cook Morey's Wild Cod Butter & Herb according to package directions of your choice (we used the baking method). Flake into large pieces.
MAKE TOPPING: While the fish is cooking, finish the rest of the dish. In a medium mixing bowl, stir together 4 tablespoons melted butter, bread crumbs, 1/3 cup Parmesan, and half of the lemon zest. Set aside.
MAKE CHEESE SAUCE FILLING: In a medium saucepan over medium heat, add the remaining butter and 2 ½ tablespoons flour. Whisk for 2 minutes. Add in the cream, whisking constantly, until beginning to thicken (about 4 minutes). Add the cream cheese, Gruyere, remaining Parmesan cheese, remaining lemon zest, and Old Bay seasoning. Cook, stirring, until cheese has completely melted. Remove from heat and gently fold in artichoke hearts and fish.
BAKE DIP: Spray a 10-inch pie plate with non-stick cooking spray. Fill the bottom with the cheese sauce filling and cover the top with the bread crumb mixture. Bake for 20 minutes or until golden brown and bubbling.
TO SERVE: Serve warm with sturdy crackers or vegetable crudités.
PRO TIP: Having a large party? This recipe easily doubles and triples!
Ingredients
2 Morey's Wild Cod Butter & Herb fillets
8 Tbsp. butter, melted and divided
2/3 cup Italian breadcrumbs
2/3 cup grated Parmesan, divided
Zest of 1 lemon, divided
2 1/2 Tbsp. all-purpose flour
1 cup heavy cream
4 ounces cream cheese
1/2 cup shredded Gruyere cheese
1 1/2 tsp. Old Bay Seasoning
12 ounces frozen artichoke hearts, thawed and roughly chopped
Crackers or vegetable crudités for serving
Prep Time
30 minutes
Serving Size
6-8
Additional Product Options
You can also use:
Specialty Seafood
Drink Pairings
Sauvignon blanc
Boulevardier
Kristallweizen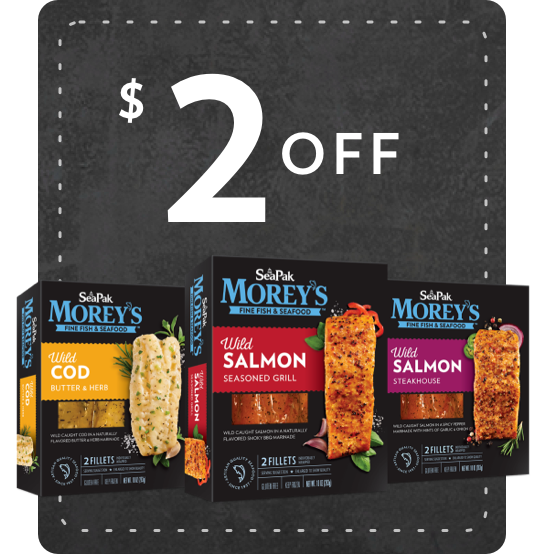 Sign Up and Save.
From delicious recipes to cooking tips to special offers, we've selected the best catches for your inbox. We'll send a coupon directly to your inbox when you sign up!