Preparation Instructions
STEP 1: Preheat oven to 375°F.
STEP 2: Prepare Morey's Wild Cod Butter & Herb fillets according to package directions.
STEP 3: Add olive oil and butter to a large iron skillet and swirl.
STEP 4: Add onions, celery, carrots, mushrooms, thyme, and seasoning. Sautee 8-10 minutes until the carrots begin to soften.
STEP 5: Add garlic and cook until fragrant (about 1 more minute).
STEP 6: Sprinkle flour over the vegetable mixture and stir. Cook for 2 minutes. Mixture will begin to thicken. Gradually pour in broth and wine.
STEP 7: Slowly pour in cream and whisk to avoid lumps. Continue to stir until mixture thickens, about 4-5 minutes.
STEP 8: As the sauce thickens, add the peas and fish. Salt and pepper to taste.
STEP 9: Cut each biscuit into 3" sections and scatter the dough across the top of the skillet.
STEP 10: Place in oven and bake at 375°F for 18-20 minutes.
STEP 11: Top with fresh parsley and serve in bowls.
Ingredients
2 Morey's Wild Cod Butter & Herb fillets
1/4 cup olive oil
3 Tbsp. butter
1 sweet onion, chopped
1 cup celery, chopped
1 1/2 cups carrots, sliced
1/2 cup peas
1 cup fresh mushrooms, chopped
1/2 tsp. salt
1/2tsp. black pepper
1 tsp. fresh thyme
1/2 tsp old bay seasoning
2 cloves garlic, minced
1/2 cup all-purpose flour
1 3/4 cups chicken or vegetable stock
3/4 cup white wine
1 cup heavy cream
1 tube of refrigerated biscuits
Fresh parsley
Prep Time
20 minutes
Serving Size
8
Additional Product Options
You can also use:
Tilapia Seasoned Grill
Drink Pairings
Chardonnay
Old Fashioned
Amber Ale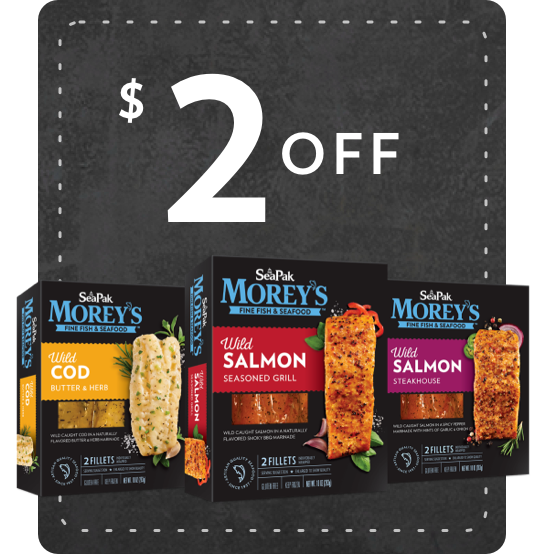 Sign Up and Save.
From delicious recipes to cooking tips to special offers, we've selected the best catches for your inbox. We'll send a coupon directly to your inbox when you sign up!