Za'atar Herb-Crusted Salmon, Tahini Garlic Sauce & Pickled Beets
WITH WILD SALMON SEASONED GRILL
Perfectly baked salmon breaded with a blend of panko breadcrumbs and Mediterranean herbs over a bed of rich and creamy tahini garlic sauce, incomplete without a tangy-sweet side of pickled beets. A complete and nutrient-dense meal to provide a well-balanced plethora of flavors to your table in less than 30 mins.

This recipe was created in collaboration with @thegreatspoonfeed for the Morey's Friday Night Cooking Club.
Preparation Instructions
Preheat the oven to 375°F. Remove frozen fillets from the pouch and place on a foil-lined baking pan with flat sides down. Bake for 20-22 min.
MAKE PICKLED BEETS: Mix together ingredients for pickled beets and set aside. 
MAKE TAHINI GARLIC SAUCE: Mix together ingredients for tahini garlic sauce and set aside. 
TO MAKE ZA'ATAR CRUSTED SALMON: Mix together panko breadcrumbs, za'atar, parsley, lemon juice, melted butter, and black pepper. Remove salmon from the oven and spoon za'atar mixture over the top of each fillet. Gently press down with the back of a spoon so it adheres loosely to the salmon. Place back in the oven and broil for 3-5 mins. Carefully remove from the oven.
TO SERVE: Spread a thick layer of tahini garlic sauce over the bottom of each plate and top with baked salmon filet, and pickled beets. Serve with rice or quinoa and garnish with freshly chopped parsley.
Ingredients
2 Morey's Wild Salmon Seasoned Grill fillets, frozen 
½ cup panko breadcrumbs
2 Tbsp. Za'atar 
2 Tbsp. freshly chopped parsley
1 tsp. fresh lemon juice
1 ½ Tbsp. melted butter 
2 tsp. freshly ground black pepper 

Pickled Beets
1 fresh beet (stems removed and sliced)
1 cup diluted vinegar (equal parts white vinegar and water)
1 Tbsp. white sugar
1 tsp. salt 

Tahini Garlic Sauce 
½ cup tahini
3-4 cloves garlic (pressed or minced) 
Freshly squeezed juice from 1 large lemon
½ tsp. salt 
¼ tsp. ground cumin
½ cup water (added 2 Tbsp. at a time while whisking, for a thinner sauce)
Prep Time
15 min
Cook Time
25 min
Serving Size
2
Additional Product Options
You can also use:
Wild Salmon Lemon Herb

Drink Pairings
Oak-Aged Chardonnay
Cucumber Gin and Tonic
IPA
Summary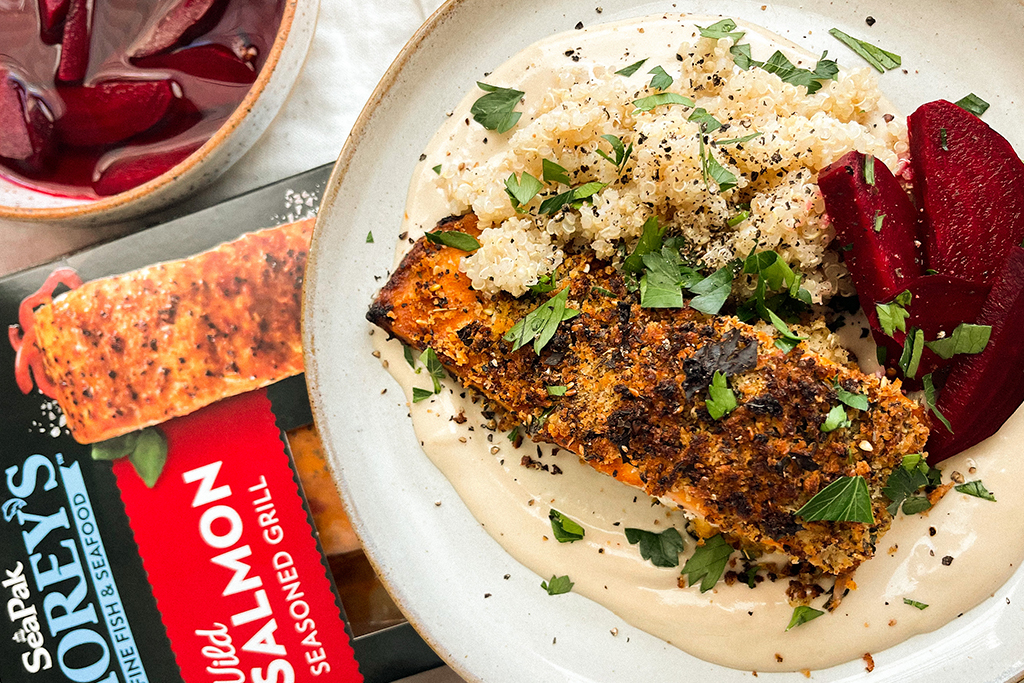 Recipe Name
Za'atar Herb-Crusted Salmon, Tahini Garlic Sauce & Pickled Beets with Wild Salmon Grill
Author Name
Morey's Fine Fish & Seafood
Published On
Preparation Time
Cook Time
Total Time