Preparation Instructions
STEP 1: Cook Morey's Wild Salmon Steakhouse according to package instructions. Discard skin, shred salmon with a fork, and set aside.
STEP 2: Place cheese in a bowl and allow to soften slightly, add crème fraîche, parsley, and mix to incorporate.
STEP 3: Fold in chopped spinach and salmon flakes until well distributed. Salt and pepper to taste.
STEP 4: Spoon the filling into the center of each portobello and top with a small amount of olive oil.
STEP 5: Place the portobellos on a foil-lined baking sheet. Bake in a 350-degree oven for 20 to 30 minutes until the filling is warm and the mushrooms are cooked.
Ingredients
4 large portobello mushrooms, cleaned with stems removed
2 cups fresh spinach, steamed, drained, and chopped
8 oz. cream cheese or herbed Boursin cheese
1/4 cup crème fraîche
2 Tbsp. fresh parsley
Olive oil
Salt and freshly ground black pepper
Chardonnay
Gin Martini
Dry Cider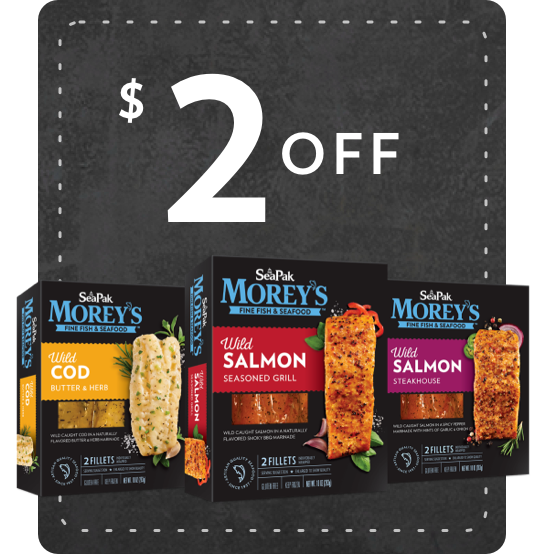 Sign Up and Save.
From delicious recipes to cooking tips to special offers, we've selected the best catches for your inbox. We'll send a coupon directly to your inbox when you sign up!