Wild Rice and Fish Chowder
WITH TILAPIA SEASONED GRILL
Creamy broth, potatoes, corn, crunchy bacon, spiced tilapia, and wild rice make this hearty fish chowder the perfect comfort food.

It's easy to create a restaurant-quality fish chowder when you start with seasoned tilapia fillets from Morey's. Our fish chowder recipe is filled with tender, flaky fish and all the yummy fixings of your favorite traditional chowder. Wild rice and fresh lemon juice round out this creamy chowder perfectly. Serve a bowl with a loaf of crusty bread – sourdough if you've got it – and a beverage like a Pinot Grigio, sherry, or a full-bodied brown ale. This fish chowder recipe makes an elegant meal: perfect for an at-home date night or a dinner party with friends.
Preparation Instructions
COOK RICE: In a medium saucepan over high heat, bring 1 1/2 cups water and butter to a boil. Add the rice and a pinch of salt. Cover, reduce the heat to low, and simmer 45 to 50 minutes, or until the liquid is absorbed.
START SOUP: While the rice is cooking, in large saucepan over medium-high heat, add the chopped bacon and cook 5 minutes or until browned and crisp.

Remove the bacon to paper towels to drain and pour off all but 1 tablespoon bacon drippings from the pan. (Save the bacon to sprinkle on top for serving.)

Add the onion, celery, and garlic to the drippings in the pan and cook 5 minutes over medium heat until tender. Add the broth, cream, corn, and potatoes.

Simmer 15 minutes or until the potatoes are tender.
COOK FISH: While soup is simmering, cook fish. Cook Morey's Tilapia Seasoned Grill used the baking method). Flake into large pieces.
FINISH SOUP: Add the parsley, thyme, lemon juice, and fish to soup. Gently stir in the cooked rice. Season to taste with salt and pepper.
TO SERVE: Divide the chowder evenly between serving bowls. Sprinkle with the cooked bacon and garnish with additional fresh thyme and parsley. Serve with crusty bread for dipping.
PRO TIP: Add a splash of dry sherry to the soup before serving.
Ingredients
1 1/2 cups water
1 Tbsp. butter
1/2 cup wild rice
4 slices bacon, chopped
1/2 cup chopped onion
1/2 cup chopped celery
3 cloves garlic, minced
3 cups chicken broth
1 1/2 cups heavy cream
1 cup corn kernels (from about 2 ears of corn)
1 cup cubed Yukon Gold potatoes
2 Tbsp. chopped fresh parsley
1 Tbsp. fresh thyme leaves, plus more for garnish
1 Tbsp. lemon juice
Crusty bread for serving (optional)
Prep Time
1 hour 15 minutes
Serving Size
2-4
Additional Product Options
You can also use:
Wild Cod Butter & Herb
Drink Pairings
Pinot Grigio
Sherry
Brown Ale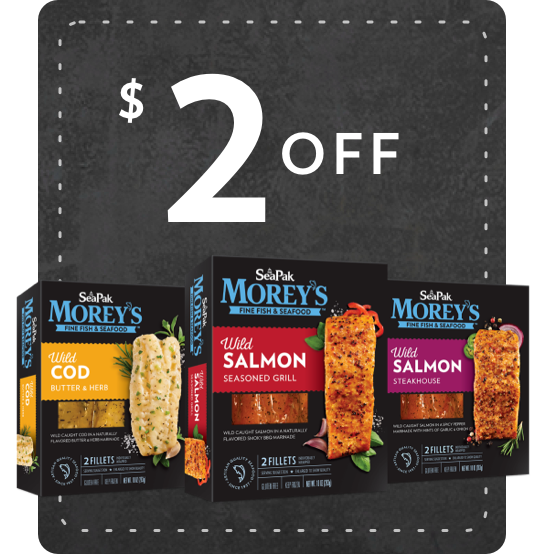 Sign Up and Save.
From delicious recipes to cooking tips to special offers, we've selected the best catches for your inbox. We'll send a coupon directly to your inbox when you sign up!
Summary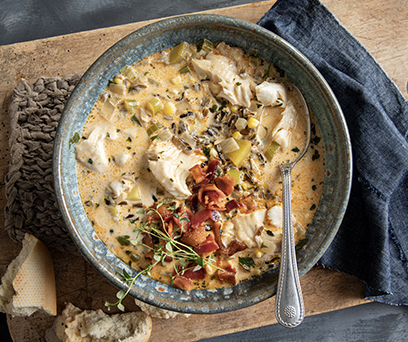 Recipe Name
Wild Rice and Fish Chowder
Author Name
Morey's Fine Fish & Seafood
Published On
Preparation Time
Cook Time
Total Time